Finnish Disco Dancing Lessons! Here's a Finnish couple teaching you how to properly do the disco dancing thing. This is from a Finnish television program from the 1980s. Ready? yks kaks kolme…
One commenter on YouTube knew the story behind the video:
The man in the video was actually the dance instructor of the Finnish army. He would teach the officers to dance ball-room dances, so that when someone showed up at some kind of important ball without a partner, they could dance with the officers. Then someone figured it would be a good idea to ask this man to make a short film on disco dancing. He hadn't heard about disco until about two days before they shot this. Most Finns were either embarrassed or very amused.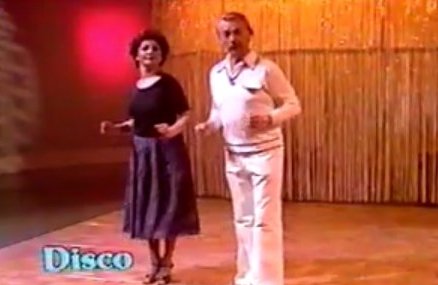 The song at the end is called Moskau by Dschinghis Khan
(there is also a Finnish version called Volga by Frederik).
Dschinghis Khan video
Dschinghis Khan was a German pop band, created in 1979 to compete in the Eurovision Song Contest. While the group broke up in the mid-1980s, the video for "Moskau" was a part of the show "Disco" on ZDF; as was their similarly-staged number "Dschinghis Khan".
Volga by Frederik
Frederik is a Finnish singer, also known by his nickname Reetu. During his career, he has been awarded five gold and three diamond records. One of his contemporary nicknames is Junttidiscon kuningas (King of hillbillydisco).
Hat tip to Q-Burns for the link.