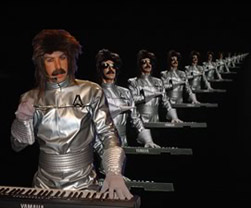 Hey baby wake up from your a sleep
We have arrived onto the future
And the whole world is become….

Elektronik, Supersonik,
Supersonik, Elektronik…..
Santo Cilauro (born in Melbourne, Australia) is a film producer and comedian. One of the co-founders of The D-Generation, Santo wrote and performed in the show during the later half of the 1980s as well as a performer on the early 90s sketch comedy The Late Show. Not to mention co-authoring the Jetlag Travel Guides to Molvania
, Phaic Tan
and San Sombrero
.
Zladko Vladcik (aka Zlad) is his fictitious version of a "Molvanîan" pop music artist. Elektronik Supersonik makes for a cheesy combination of Italo disco and Synthpop, with funny accents and English mis-translations:
I am the Anti-Pope is funny, but darker and certainly more odd: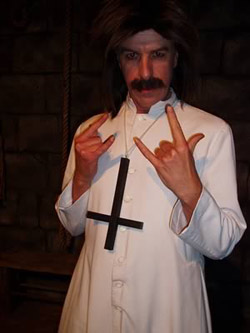 Molvania Travel Guide:
The Molvanian heart-throb was informed at the last moment by Eurovision contest officials that his entry had been withdrawn. "Satanism has no place at Eurovision", was the terse one-line statement issued by the Kiev press office. "ZLAD!" insists his song "I Am The Anti-Pope" is not an attack on Christianity – rather, a light-hearted ballad recounting the short reign of little-known Beelzebub the First – the only Vicar of Christ to have been crucified at the stake. "In Molvania, this is one of our most loved children's stories", claimed Zlad!, speaking backwards through a hooded translator.
Santo Cilauro's Molvanian invention seems very similar to Sacha Baron Cohen's Kazakhstani journalist Borat
. Except, of course, that Molvanîa is a fictional country.