Everyone likes to try a new experience – especially if it's a dining experience. It seems that in Asia, they are a little bit more open to possibilities when it comes to restaurant atmosphere. Observe some of these crazy Asian restaurants:
D.S. Music
Taipei
It starts with this Reuters Article:
A Taipei restaurant-bar is letting visitors order "medicine" from a menu and dripping it into their glasses from a transparent ceiling-suspended vat, becoming the latest oddball themed restaurant in Taiwan's capital. As many as 10 visitors can sit around each bed at the D.S. Music Restaurant, a hospital-themed eatery, and watch showgirls dance on weekend nights or chat up "nurses" whose rabbit-ears complement their starched white uniforms. The 130-seat restaurant, which features crutches hung from the walls and a wheelchair parked in the lobby, is the only one with a hospital theme in Taiwan. Other touches include a sign marked "emergency room" leading to the toilets.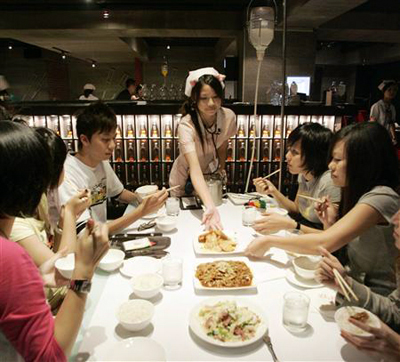 The spot is the latest in a string of strange-themed eateries in Taipei, as local entrepreneurs cater to people with a taste for the quirky and offbeat. The Jail puts some of its restaurant tables behind bars, while another serves full-course meals in toilet bowls. Years ago, a Taipei bistro tried a Holocaust theme, but eventually removed items and photos reminiscent of Nazi Germany brutality under pressure from Jewish groups.
The Jail
From Taiwan Fun
Customers arriving at the big, grim-looking industrial-strength metal door of this Chinese restaurant check in with an "inmate" — appropriately clad in black-and-white striped prison smock and cap — who handcuffs (an option which may be declined) the customers and leads them inside to their own cell where there is normal dining table. The metal-floored interiors are definitely jail-like, with rusty iron and wooden bars and sliding prison doors.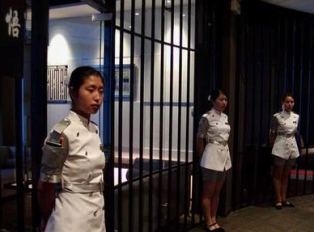 I did some digging and found this. Among the highlights of this restaurant (google-translated so be prepared!):
You want to try being handcuffed, locked in their cells for meals taste? That difference in Taipei and Taichung branch has the "devil island," the restaurant sure to meet your requirements. If the prison to patronize this theme of the restaurant can enjoy rich food cell, another melodious music with meal. This life behind bars, it's not because everyone has the opportunity to try.

After entering the restaurant, wearing black-and-white striped prisoner's 744,989,760 will be approached for the visitors on a set of "imprisonment" rule, allocation of prisoners numbered, photographed and fingerprinted covered. Guests will then handcuffed, detained, the official "imprisonment."
that page also mentions a restaurant in Bejing called "Zen cool" :
Zen Cool
Beijing
the first Beijing prison theme restaurants — "Zen cool."
This restaurant owner on the run "prison" restaurants intention, it was hoped that awareness of crime and away from crime, away from the prison.
iron railings doors and windows, chains are made curtain. the door wearing helmets "guard" guard, and the staff dressed in costumes jailers,
"Special women" : Dish Names more nausea. (thanks, Google translator!)
Speaking of Toilets, here's a group of crazy Asian restaurants with toilet themes:
The Marton
Taipei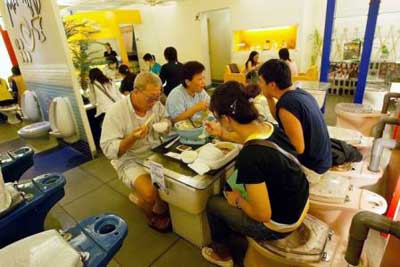 From Cool Hunting
It's a restaurant in Taiwan with a modern decor and a full-on toilet theme. The thorough implementation includes toilet chairs, urinal sconces, and even commode shaped serving pieces.
Say No to Crack says they have opened a second one of these because of the popularity.
More Photos:
(click Thumbnail for larger image):



And in Singapore:
Aurum
Singapore
From Asia One:
HOSPITAL food is not most people's idea of a memorable gastronomic experience, but the owners of the new medical-themed Aurum restaurant in Clarke Quay reckon that the association will not put diners off. In terms of novelty eateries, this one pushes the envelope. Diners enter through a 'morgue', sit at operating tables in wheelchairs, get their cutlery out of surgical instrument drawers and are given syringes with some meals.

The 60-seat restaurant is one of the pill-shaped areas that make up The Clinic, a bar-restaurant-disco at Clarke Quay. While some deem the new restaurant a creative masterpiece, others think the theme is unappetising and the wheelchairs a little insensitive.
(Guy obviously hasn't been to the Marton)
Aurum Web Site
Clinic Web Site
I know what you're thinking – there's something missing from the atmosphere of these restaurants. I know! Condoms!
Cabbage and Condom
Bangkok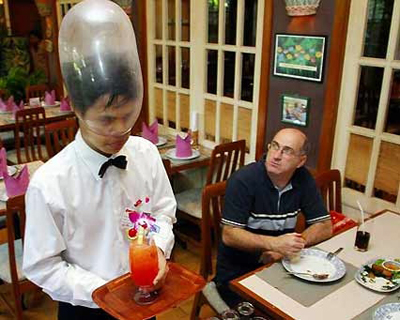 From Thailand: (google-translated):
The most special of the restaurant is not only a strange name of "Chinese cabbage with condoms," There restaurants, and all the condoms all : wall decorations from around the world to collect a wide variety of condoms, different materials, colors, shapes, tastes, All on the menu are the Dish Names and sex and condoms, wrapping dots are called "pre-show"; one called "condom salad" signs Shanghai cuisine is Thai fried noodle distribution of various forage. After dinner, when guests placing orders, the general will give guests a restaurant meal gum, where it becomes a free condom.
Lane restaurant's name was still "Cabbage" because the cabbage is a common Thai vegetables, cheap people deeply in love.
Now, the "Cabbage and Condoms" restaurant already out of the capital Bangkok, in Thailand, a total of 12 's "Cabbage and Condoms" restaurants here every year for free delivery of 6.6 million condoms, the average daily number of free delivery is 1500, this is an alarming figure.
Cabbage and Condoms" restaurants or even go abroad, in Japan opened a branch. Singapore and the United States branches are underway.
Thanks for checking out our list of crazy Asian restaurants.