This year, like any other year, a lot of people will probably have a few gadgets and pieces of tech gear on their wish list for Christmas. So, if you have a tech geek in the family, what kind of exciting gadgets and gear should you give to a loved one this coming Christmas?
When it comes to gadgets and tech gifts, there are more options available than the amount of time you have to go over them all. This is why Christmas gift lists like this exist and why you're hoping to get some inspiration from the suggestions here. Don't worry, that's what we're here for. 
Check out some of our simple gift ideas that might put a smile on your loved one's face.
DaVinci Premium Vaporizer
DaVinci IQ2 premium vaporizer is a prominent player in the dry herb and extracts vaporizer industry. They offer a wide variety of premium precision vaporizers, from the DaVinci Classic to the Ascent, IQ, MIQRO, and the IQ2 dual use precision vaporizer, there are different options available to the cannabis connoisseur. DaVinci's premium vaporizers have a price range of $89 to $295. So, if you have a loved one who uses cannabis, either for recreation or medical purposes, DaVinci's wide selection of premium precision vaporizers might be a good gift idea. You can visit their official website at https://www.davincitech.com/ for more information about their products.
New Apple iPad 10.2-inch (8th Gen)
Nowadays, you simply can't make a list of Christmas gift gadgets without the iPad. Apple's latest version of the iPad boasts a 10.2-inch Retina display. It is powered by an A12 Bionic chip with Neural Engine and equipped with 32GB of storage with up to 10 hours of battery life. The gadget is just powerful enough to accommodate remote or on-the-go work and other simple activities, such as browsing the web, streaming movies, or playing mobile games. The new Apple iPad supports Apple Pencil 1st Gen and Smart Keyboard. It costs $299 on Amazon.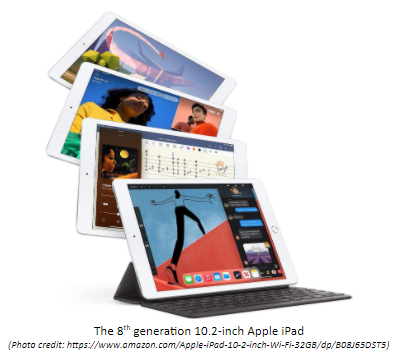 Nebula Capsule Smart Mini Projector by Anker
The year 2020 has been a difficult year for everyone. The pandemic has forced us to isolate in our homes and has drastically affected a lot of outdoor and indoor public activities. One of these activities is watching movies in the cinema. There's no doubt that a lot of people, especially movie buffs, have missed going to the movies. So, what do you give a movie buff as a Christmas present in the middle of a pandemic? Why, a smart projector of course! In this case, the Nebula Capsule smart mini projector by Anker.
This mini projector is perfect for that family member or friend who loves movies and appreciates the cinema experience. The Anker Nebula Capsule is about the size of a soda can, but it is capable of projecting up to 100 inches of high-definition video for up to three hours. You may have to plug this one to a power outlet if you're going to watch a movie with more than three hours of runtime. The Nebula Capsule costs $349.99 on Amazon.
Ember Temp Control Smart Mug
If you're looking for the perfect Christmas gift for your mom or for nana, this is it. The Ember smart mug with temperature control is capable of keeping your coffee, tea, or chocolate drink at a constant temperature. The temp control feature is operated via an app that you download on your smartphone or tablet. Your loved one will never have to worry about their warm beverage getting lukewarm ever again. It has a 1.5-hour battery life and a new improved design. The Ember temp control smart mug is available in a variety of colors starting from $99.95.
Fujifilm Instax Mini Link Smartphone Printer
This is a perfect Christmas gift for any teenager who loves taking pictures on their smartphone. They can print photos instantly from their phone using this fun novelty gadget. The Fujifilm Instax mini printer is very easy to setup. It comes with a variety of colors and fun filters. This smart mini printer utilizes laser printing technology on glossy photo paper as the main printing media type. It connects to any smartphone via Bluetooth and is capable of printing photos pulled from video clips.
The smart mini printer has a quick printing feature of up to 12 seconds with more or less a 90-second development time after the printing process. It costs $99 for just the camera with an option to purchase with 60-pack or 120-pack photo paper for added cost.
Echo Dot Kids Edition (4th Gen)
Designed specifically for kids, the Echo Dot 4th Gen Kids Edition comes with parental controls and other amazing features. There are two design options: a friendly tiger face or a cute panda. This is one of the more popular smart speakers in the market that caters towards kids. The Echo Dot Kids Edition is powered by Amazon's smart AI, also known as Alexa. It can help entertain the kids as they learn about a wide range of topics, hear stories, and ask all the questions they want. This 4th Gen smart speaker is priced at $59.99 and it's a great Christmas gift for the kids in the family.
Eufy BoostIQ RoboVac 30C by Anker
Even if they don't know it, people need this smart robot vacuum cleaner in their lives. The Eufy BoostIQ RoboVac 30C is arguably the best robot vacuum cleaner in the market for under $300. It costs $179.99, down from the original price of $299.99. The device is designed for simple and efficient cleaning with its impressive bump-and-go navigation technology.
Its key features include Wi-Fi connectivity, 1500Pa suction, self-charging capabilities, quiet cleaning, and BoostIQ technology, just to name a few. The latter gives the device the ability to automatically increase suction power within 1.5 seconds whenever necessary. This is an excellent Christmas gift for any relative, friend, and family member.
Conclusion
There you have it. Those are some of the best Christmas gift gadgets you can buy for your loved ones. Some of them are, admittedly, a bit pricey, but there also very affordable ones that should fit perfectly within your budget range. Hopefully, this list has inspired you to find other cool gadgets that your intended recipient will appreciate. There are a lot of fun and exciting gadgets out there. So, start searching and place your order in right now.