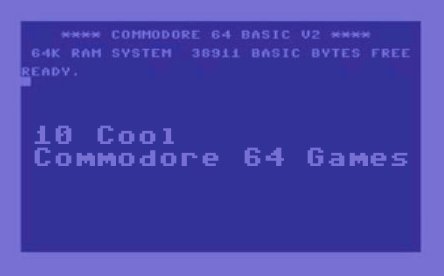 Continued from Page 1
Impossible Mission
This cool game for the Commodore 64 was published by Epyx in 1984. The gameplay was addictive. And I'll always remember the digitized voices of Professor Atombender:
"Another visitor. Stay awhile… staaaaay FOREVER!"
"Destroy him, my robots!"
Rambo: First Blood Part II
Rambo was simultaneously the most frustrating and most rewarding game I had for C64. Frustrating because it was almost friggin impossible, but when I finally won the game it felt like a real achievement.
Miner 2049er
Created by Bill Hogue in 1982, Miner 2049er had 10 different screens of gameplay. I played the hell out of this one.
Remember – stay away from the radioactive waste!
Summer Games/Summer Games II/Winter Games/World Games/California Games
Epyx released Summer Games in 1984, which featured various events from pole vaulting to skeet shooting to swimming. It was a hit and spawned a whole franchise of "Olympic" Games." World Games was particularly fun, since it had odd competitive events like weightlifting (Russia), Log Rolling (Canada), Cliff Diving (Mexico), Caber Toss (Scotland), etc. I remember liking Winter Games alot too.
Zork
The one and only text adventure classic. Wiki says that "Zork" was originally MIT slang for an unfinished program. Originally written in MDL, it was later written using a language called ZIP (sorta like LISP). The original creators founded the company Infocom. You can play Zork here.
Start Over