Birthdays are really very special and become even more special when you have the right dress for your baby. The baby girl's birthday dress is something that you need to choose wisely in order to make your girl the center of attraction. Look out for the dress in the latest dress collection of beautiful baby girl dresses that consist of trending and stylish patterns, designs, lengths and many other options to make the event fruitful for you. Talking about the online store, you must know that MoonBun has one of the best collections when it comes to the cute baby girl dresses. In that case, the hardest part might be to pick one dress when you've got an amazing collection in front of you. As a parent, your duty must be to choose beautiful dresses for your beautiful angels.
Check out the styles that you need to consider for your baby girl!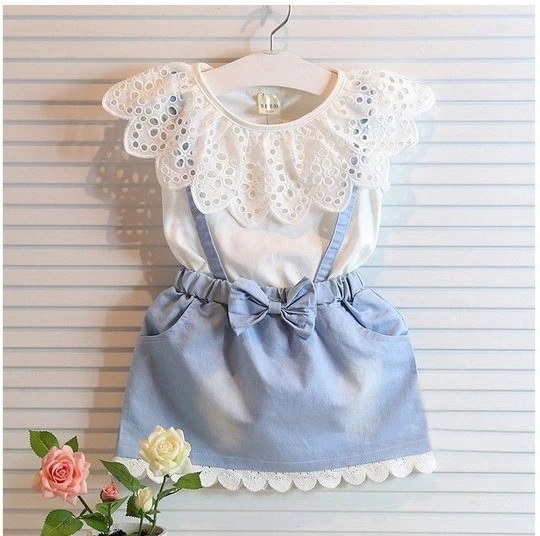 A dress with pockets :
If it's her birthday and you want to dress her in something unique and comfortable, then you must try out this delightful dress. Apart from the birthday, you can make use of this dress in the summer picnics or playing in the garden plus your daughter can dance all the way along in this comfy attire. This dress might look like a skirt with a top and suspenders, but it's actually easy to wear a one-piece. There's a charming white top with a floral-like scalloped neckline that has eyelet details. This is a light blue denim skirt that has an elastic waist and a bow with a white lace detailed hem. There are fun suspenders that you can tie all together. You can top up this innovative dress with the pockets and your little baby girl is all ready to rule the playgroup, party or the school fun.
Who's the one who doesn't love a dress with pockets?

Black Tutu Skirt :
If you're searching for an awesome skirt for the little lady, then you must check out this double-layered skirt to make her feel like a dancing princess on her birthday. It's a full black tutu dress in which your baby can twirl and dance around. There's a sleeveless brown tank top with a white square and black text. The drawing of a woman on the top says it all about this wonderful black tutu skirt. Your baby girl is going to make a style statement in this beautiful dress!
Feminine dress :
Your little angel won't just be on the trend but will be the one setting trends in this gorgeous dress at her birthday party. This skirt dress combines the casual ease of the denim skirt with some feminine frivolity of a tutu. It's a classic button-down denim shirt that can help the baby girl look amazingly different from the crowd. The styling of this top includes a collar along with a small ruffle detail that ruffles all its way towards the waist and rolled up cuff sleeves. Your baby girl will look like an angel in this full grey multi-layered tutu dress. You can easily pair up this dress with ballet sneakers or flats. Choose anything that goes with this eclectic look.
Make her birthday special by gifting her a special dress from MoonBun!