Surfing is an exhilarating experience that makes you want to follow the waves for the newest adventure. Whether you're a rookie or an experienced surfer, there are different beaches that can offer the experience you're looking for. You can find beaches that are amazing surf-spots but tend to be super crowded, and others that may not be suitable for your level.
So, if you're heading off to Waikiki and wondering where to surf, here are the best spots:
Canoes
One of the reasons this is a popular surfing destination in Waikiki is because it offers something for everyone. It's the perfect destination for beginners who are looking to try surfing in Waikiki as the locals are accustomed to it being the spot for new enthusiasts. This makes the intimidation of being surrounded by pros and making a total fool of yourself disappear and you're only left with the excitement of trying to stand up on the board. If that is your only objective as a first-timer, the waves are truly forgiving and will make your experience not only enjoyable but also accomplishable for your task. You'll also find that the Canoes is filled with boogie boards, stand up paddle boards, and surf canoes creating a fun destination filled with a whole lot of water sports and activities.
Queen's
Also known as Queen's surf, it offers some of the best waves in Waikiki because of its perfectly peeling right hand wave. You'll find all sorts of contests being held at this location due to the waves it offers, making it a little intimidating for beginners. However, taking a look at the color of the water; its turquoise perfection makes it an appealing destination where surfers flock to from all over the world. With the large crowds and professional surfing levels available, it is a popular destination for experienced surfers making it more realistic for beginners to instead head to the Canoes to learn how to surf.
Diamond Head Cliffs
If you're an expert and looking for a place to surf, Diamond Head is where you should be heading. Known as the Suicides, this location is only recommended for experienced surfers as it's not only fairly windy but also subject to pretty strong currents making it essential for someone to be experienced enough to know how to handle the waves and tides.
Diamond Head is also a dormant volcano that has been inactive for hundreds of thousands of years. It is exposed to the ocean like no other spot because of its tropical reefs that have grown over its shores. Because of these reefs, the waves created are left and right-handed swells that make it super challenging even for an expert surfer… but also a whole lot of fun.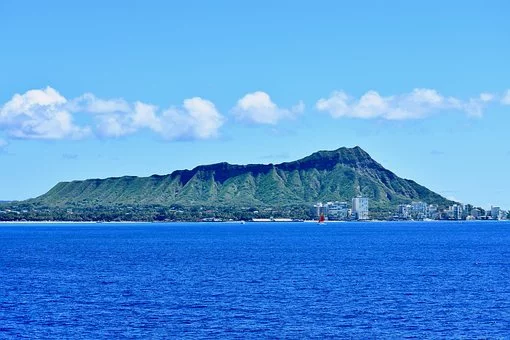 Publics
On the east side of Queen's surf beach, another popular destination for surfers in Waikiki known as Publics resides. It's a very inviting spot for longboarders as it has a shallow, sharp, and an irregular coral head. It's also not very crowded, making it a more enjoyable destination to enjoy the long, sloping waves. However, one of the reasons it is less crowded is because it is only suitable for surfing at high tides as the waves tend to break during low tides. You'll be able to tell the ocean's conditions with the aid of a lifeguard that's seated atop a tower on the beach who will direct you whether the waves are big and strong. They will indicate in the currents will be exciting for surfers, or whether the tide is low and the coral heads are dry.
The Wall
Acting as a barrier between the waves and the shore, The Waikiki wall is perfect for beginners to enjoy small waves to practice surfing. If you need a place to practice popping up without the waves engulfing and intimidating you, the Walls will be the ideal spot for you. It gives a rookie the chance to get the basics of surfing and practicing in a much safer environment. Even though it's packed with locals, families, and children practicing on the smaller waves, it is still a great place to get the basic skills learned and developed before you're able to move to another location.
Surfing can be a whole lot of fun and once you're familiar with the basics. It is exciting to constantly challenge yourself with different waves, different spots, and learn more techniques, skills, and tools to adapt to the waves. In Waikiki, you'll find many different options for all levels of surfers giving anyone who's into the sport a chance to have the time of their lives.