There's a "volcano restaurant" on the Spanish island of Lanzarote called the El Diablo Restaurant. We call it the volcano restaurant, because the whole place actually sits on an active volcano. At El Diablo, chefs cook their food using the heat produced by the volcanic heat underneath them.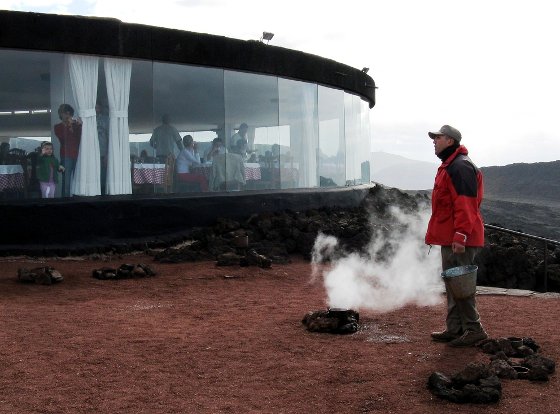 As part of the Canary Islands, Lanzarote was born about 15 million years ago from volcanic eruptions. In recorded history, the biggest eruptions occured in the 1730s. Obviously, today there are no lava-spewing eruptions, which would certainly ruin a good meal and prevent repeat business (customers are so finicky!)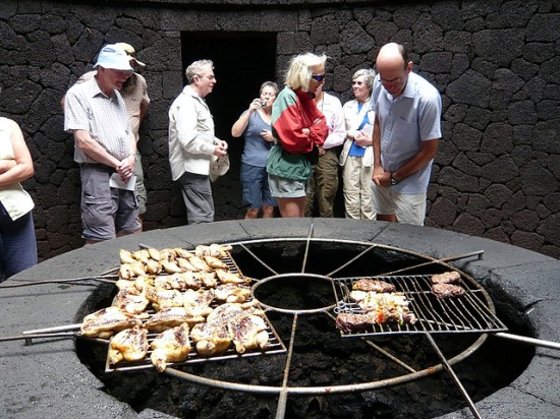 Created in 1970 by César Manrique, a local artist and architect, El Diablo Restaurant had its roots in the informal serving of fish and wine to tourists. Manrique had a grill built into the ground which channels tremendous heat for the purpose of cooking various plates of meat and fish. Due to the nature of the location, nine layers of basalt rock were used to create a foundation (since digging was not possible).
This famous "Volcano Restaurant", located at Timanfaya National Park, not only features local cuisine but makes for a great lookout point, where one can really appreciate the beauty of the island landscape. As seen below, the El Diablo also has a small glass area called Jardin Muerto ("dead garden") which displays a camel skeleton and an old tree trunk, a reminder of the surrounding harshness of the area.
César Manrique died in 1992 but his legend lives on. Tourists can visit his home, which serves as an art gallery featuring his life's collection. The home itself shows Manrique's skills at utilizing the natural environment when constructing living spaces, just as El Diablo does. The lower floor of the home has areas located within volcanic bubbles, and a central cave is utilized as a recreational area (including pool and dance floor).
Also on the island of Lanzarote is Timanfaya National Park, made up of volcanic soil. It's well recognized symbol ("El Diablo") stands guard as seen below (also created by Cesar Manrique).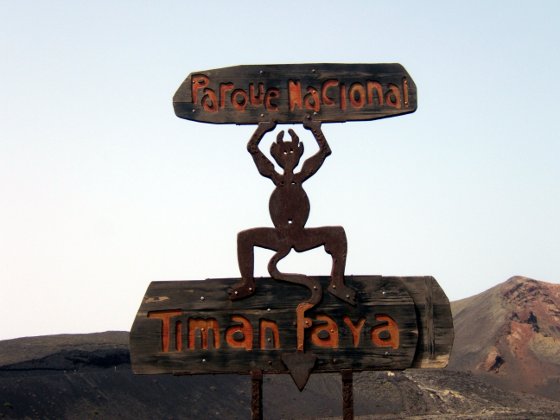 Sources for this article: Ripleys, Oddity Central, Wikipedia