Here's something interesting in the retail world – IKEA prefab homes for sale. You can get almost anything from IKEA, and now you can have all the hip products from the Swedish-owned retailer assembled for you in your prefab home that goes by the name Aktiv, from Ideabox, an architectural studio in Oregon.
The Aktiv line of prefab homes from Ideabox will feature 1 bedroom, 1 bath homes designed with Pacific-NW homeowners in mind. First off, they're eco-friendly, with energy-star appliances and dual-flush toilets. Their structure is made up of metal and fiber-cement siding, and they are completely furnished with IKEA products. A model of this prefab home was recently featured at the Portland Home and Garden show. When the Aktiv line goes on sale you'll be able to pick up one of these babies at the low price of $86,500. Now that's cheap real estate.
As Ideabox describes it, their Aktiv prefab homes are fun, space-saving, and functional. The kitchen, featuring IKEA cabinets and appliances, includes a convection oven, induction cooktop, and cabinet faced dishwashers. The bathroom has a 2 sink vanity and storage cabinets. Bedroom has IKEA designed built-in closets.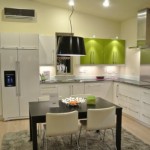 Take notice: this is prefab housing from a company that specializes in this kind of thing. (You won't be able to pull a huge honkin trailer up to your local IKEA to pick one up). Ideabox has other lines too, but we think this is the only one that has that IKEA touch. We guess it would be like living inside one of their stores.
Thanks to Alyx and April for the links.
Sources for this article: PSFK, Ideabox