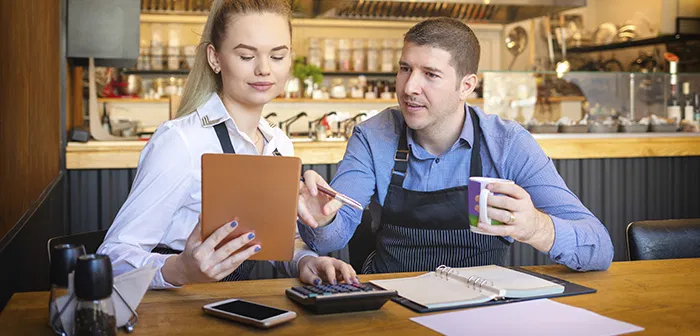 The hospitality and catering industries can be really profitable and exciting if your business is doing well. A successful business doesn't happen by chance though, and in the hospitality trade, customers expect a certain level of satisfaction, service, cleanliness and hygiene.
Whether you run a bar, night club, restaurant, cafe or an events management business, this article offers some top tips on how to keep your customers happy and coming back for more.
Offer a Customer Experience To Remember
What you do here may depend on what sector of hospitality your business is in, but anything you can offer to enhance the customer experience, that'll make them want to come back and recommend your business to their friends, is a good thing.
It could be something like live entertainment in a restaurant, doing something unique and different in how you serve your customers, creating a cabaret theme for your establishment, or even hiring a stand-up comedian.
All the above aside, it could be as simple as focusing on exceptional customer service 100% of the time, so every customer or guest feels like a VIP.
Keep Your Business Pristine With a Hospitality and Catering Cleaning Machine
Regardless of the type of business, you are running, you want your business premises to be clean and pristine at all times, as much as possible. This includes having staff cleaning the area as they go, as well as giving the place a thorough clean after hours.
Investing in or hiring hospitality cleaning equipment is a must. Alternatively, you could hire a cleaning company that uses a quality hospitality cleaning machine or hospitality sweeper.
If you're running an establishment that serves food and beverages, customers expect to step into an environment that's extremely clean. If your place looks messy or grimy, this will put your customers off, as they'll be suspect about hygiene in the kitchen and the staff in general.
Have An Online Presence
Having a website, Google My Business presence and social media accounts such as Facebook will help your business and your brand is recognised. Not only that, but it also allows you to be able to interact with customers and potential customers at any time, offer special deals, inform them of events and promotions and more.
These days everyone is online, so if you put your business online and make a point of engaging with your audience, it gives you more credibility and will entice more customers through your doors. People also love to share things on social media, so there is a very good chance you can increase your customer base exponentially through your efforts online.
Be Consistent
Whether you're a hotel, catering service, bar or restaurant, consistency holds the key to success. What people want to know most is that they'll get the same quality and service every single time they come to your place of business.
If you're in the food industry, regular customers want to know that the dishes you serve are the same each time. For hotels, high standards of room cleanliness and friendly service are paramount. If someone stays at your hotel the first time and everything is great, they'll likely come back, but if on the second occasion they're disappointed, you'll lose that customer forever. It'll also kill any chance of personal recommendations or positive reviews.
Consistency is everything in the hospitality and catering trades.
Keep Your Prices Fair and Reasonable
No one likes to feel like they've been over-charged. It's true that you can charge more for exceptional quality, or if you're offering something extra into the customer experience package, but the fairer and reasonable your prices are, the better chance you have of attracting customers and keeping them.
It's an integral part of the relationship-building process. Business is all about relationships and one of the best ways to build a rapport and trust with your customers is to make sure you're charging them fair prices for the food, drinks or services you offer.
Great prices, quality and consistent service, a clean environment and focusing on offering a unique customer experience, help ensure you'll go a long way in the hospitality and catering business.