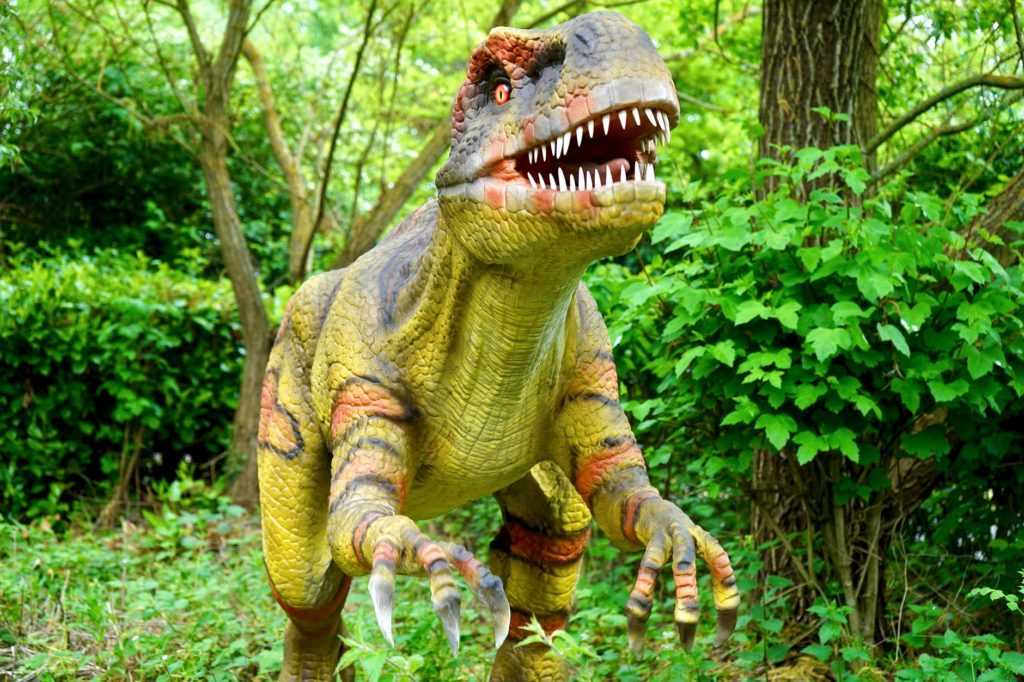 The existence of dinosaurs is the most fascinating thing we know about the prehistoric world. The public's love of dinosaurs has led to a full franchise dedicated solely to them, the Jurassic series. Apart from watching movies, a great way to see dinosaurs come to life is by seeing them in action using realistic dinosaur costumes! Only Dinosaurs, we make all our animatronic costumes by hand. The process of making these unique suits is tedious and requires a lot of hard work. Would you like to know more about why our costumes are the very best? Let's dive right into it!
The Manufacturing Process
 A brilliant team makes our handmade suits of experts and artists who plan, design, and bring your dinosaur suit to life! Every demand of the dinosaur costume is adhered to, and no detail is left behind, no matter how small.
First, the sculptor creates the basic shape of the dinosaur. Our sculptor has over five years of experience and has one of the best hands in the sculpting field. His shining talent helps us create an ideal base for your perfect dinosaur suit. The body is made from foam, making it easy to cut through. However, this process is quite tedious and requires a good amount of time. 
Next is texture. Using modern advancements in paleontology, our fabric workers impress new textures and skin patterns upon the dinosaurs. We fill every detail by hand using nothing but a soldering iron to burn into the foam base of the dinosaur. Every person working in this department is an expert with years of experience under their belt. This helps us bring you a paleobiological accurate dinosaur suit!
After texture comes skin work, to strengthen the suit and give it more turgidity, the entire dinosaur base is coated with high-grade silicone. The silicone not only improves the dinosaur's firmness but also provides an excellent base to hold the pain from the upcoming step. Also, it allows for the addition of skin folds to the dinosaur base. Such folds help make the dinosaur appear aged and realistic as well as more reptilian. Again, the silicone is applied by hand, and all workers wear a breathing mask in line with worker safety standards. 
The final step in the dinosaur manufacturing process is painting. We employ workers with over three years of practice and undeniable excellence. Our painters use a variety of methods. Primarily, they use a mechanical paint spraying device to coat the dinosaur with the most eye-catching colors. A color gradient technique is employed to help the colors blend into one another for a more natural, airbrushed look. 
Final details are also added at this step, such as eyeball color and design. Teeth are then added to the incredible jaw of the dinosaur model to complete the design. Again, when working on a dinosaur, our painters must wear safety breathing masks at all times to avoid breathing in any toxic paint fumes. Safety comes first at Only Dinosaurs!
Now that the dinosaur is ready, it is time for it to be packed for shipping. Our dinosaurs are packed by professionals to help the costume maintain its original structural integrity and design. To do this, we employ bubble wrap and foam. The suit is cocooned in bubble wrap and placed into a box containing a bed of foam. The box is then sealed and sent off to be shipped to the final destination: it is a new home!
Customization of Animatronic Dinosaur Costumes
Apart from our line of traditional dinosaurs, at Only Dinosaurs, we offer animatronic dinosaur costume customization services, too! Every detail on the dinosaur can be customized. The shape and size can be altered, and even dragon and animal suits can be made. 
The texture is a fun variable to change. Just send us a photo or video sample of what texture you would prefer on your dinosaur suit, and we'll have it ready for you in no time! Color customization is also offered. Virtually any part or detail of the dinosaur suit can be altered and tailored to your desires!
Additional Details of Animatronic Dinosaur Costume
Our dinosaur costumes are made even more life-like with the help of a few fantastic additions. All animatronic dinosaur suits come with a fully equipped sound system and re-downloaded sound effects. This allows the dinosaur to roar and make chewing sounds. 
The animatronic suit can move in many ways. Its head can rotate, eyes can blink, and jaw can open and close. Even the arms of the dinosaur can move using the triggers present inside the suit. All movements can be controlled by the person wearing the suit, so you have complete control over the costume! There is also a fan located inside the suit to prevent suffocation and to keep the user cool and comfortable.
Most dinosaur suits are seven feet tall when worn. They may extend up to fourteen feet, most of which is owed to their incredibly long tails! Every costume has a 24-month warranty, so you can make this investment without too much worry. These costumes are also very durable and are bound to last you a few years at the very least. If taken care of appropriately, the suit can last even longer. Adults and kids can both enjoy this costume, imitating a dinosaur that looks and feels so real! This costume is so lifelike that, for a moment, people may even forget that it's a costume and believe that they're interacting with a real dinosaur!
Dinosaurs are exciting creatures, and seeing them come to life would be a dream come true. Thankfully, this is now possible thanks to our line of amazing realistic dinosaur costumes. So, what are you waiting for? Order yours today.