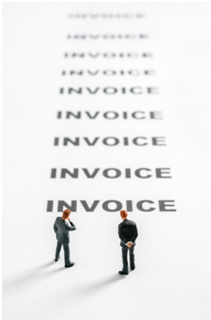 Starting a business is tough work, but running a business is even tougher. It's challenging and fun to write a business plan, putting to work all that knowledge gleaned from business class; it's almost like building a fantasy world where your every business wish comes true. Unfortunately, putting that business plan to use is not nearly as gleeful ― and when things start going wrong, you might feel downright miserable.
Fortunately, when your business starts to turn for the worse and you find yourself without the capital you need to regain your business footing, there is one service you can turn to for aid: Invoice factoring. Just because you are new to entrepreneurship doesn't mean your first small business should fail. This guide will show you how to use factoring to keep your business dreams alive.
What Factoring Is (And Isn't)
Unpaid invoices are expensive: You have to expend time and energy chasing slow-paying clients; you have to use resources to send reminders and check-ins; and you have to worry and stress about your lack of inflowing money. Invoice factoring allows you to transfigure those annoying, costly, unpaid invoices into cold hard cash.
Invoice factoring is distinct from other types of business funding. Factoring allows businesses to get paid faster, which helps them achieve business goals sooner and expand broader. The steps are simple:
• Step 1: Research reliable factoring companies and choose one to work with
• Step 2: Sell your invoices (or accounts receivable)
• Step 3: Receive a majority of the amount owed
Your client then pays the factoring company, and one they do, you will receive the rest of the invoice (minus a fee).
Invoice factoring is not like other forms of business funding for a few reasons. Unlike bank loans, which exist only between you and a financial institution, factoring involves three parties: you, the factoring company, and your delinquent clients. Factoring only requires a day or so to generate money for a business, unlike other funding which can take months to process. Finally, factoring usually provides more cash than other funding ― especially short-term business loans, which tend to siphon cash away from businesses.
What Factoring Costs
Of course, such benefits aren't free. Factoring companies charge a number of fees and rates to manage your accounts receivable for you. Typically, you can expect to see the following costs:
• Factoring fee. This rate is the amount factoring companies charge to manage your accounts. You can expect between 1 and 5 percent per month per invoice value, depending on the credit-worthiness of your clients.
• Reserve account rate. Most factoring companies will reserve a percentage of your invoices' values and return that amount if (or when) the client pays. Some companies will express this rate as an advance rate, which is essentially the inverse of the reserve account rate ― what you are getting right away rather than what you are getting later. Reserve account rates range from 70 to 90 percent of your invoices' values.
• Invoice fee. Some factoring companies will tack-on a flat fee to pay for processing of each invoice. Usually, these fees won't exceed about $2 per invoice, but you should ask about additional fees before you sign any contracts. This might also manifest as a "diligence fee," which is one-time rather than per invoice, and should fall between $400 and $600.
Not all factoring companies make it easy to understand their rates and fees, so you might need to do some digging to uncover the best deal for your business.
Why Factoring Works
Even when your business isn't on hard times, you might consider factoring your invoices. The major benefit to factoring is it allows you to expand your working capital as your sales grow, which means you are only limited by your business's ability to close deals. Instead of worrying about harrying delinquent clients ― or improving your equity or cash flow to increase your bank loan ― you can focus your efforts on sales, which is what you should be doing anyway.
Because the work is already done and the money is already earned, invoice factoring is an exceedingly low-risk way for your business to get the cash you need fast. Contrastingly, loans' credit burdens, grants' slow approval process, and cash advances' heavy interest rates make them dangerous sources of funding, especially for young, struggling entrepreneurs. Factoring works, and it can work for you.