Here's an odd story for you. A giant lego man washed up on Siesta Key Beach (Sarasota, Florida) and on his chest was inscribed the words "No Real Than You Are." The lego man, 8 feet tall, was discovered by Jeff Hindman, who was walking along the beach at dawn. He noticed that the lego man was lying down in the water so he dragged it to shore and stood it up.
On the back of the lego man, which was discovered to be made of fiberglass, was the name Ego Leonard. Ego Leonard is said to be a mysterious artist from the Netherlands.
An email was sent out to "Ego Leonard" which generated the following reply:
"I am glad I crossed over. Although it was a hell of a swimm. Nice weather here and friendly people. I think I am gonna stay here for a while. A local sheriff escorted me to my new home."
A spokeswoman for Legoland said the 8 foot tall Lego man is a counterfeit and that Legoland and its parent (Merlin Entertainment Group) do not endorse him. If nobody claims Lego Man within 3 months, Hindman will be the new owner.
Source: Sarasota Herald-Tribune
The website for Ego Leonard is interesting. It says:
My name is Ego Leonard and according to you I come from the virtual world. A world that for me represents happiness, solidarity, all green and blossoming, with no rules or limitations. Lately however, my world has been flooded with fortune-hunters and people drunk with power. And many new encounters in the virtual world have triggered my curiosity about your way of life. I am here to discover and learn about your world and thoughts. Show me all the beautiful things that are there to admire and experience in your world. Let's become friends, share your story with me, take me with you on a journey through beautiful meadows, words, sounds and gestures.
Ego Leonard goes on to say:
"In the 'real world' there are many rules and regulations. Society requires that you place yourself within a certain group or else be considered an outsider. But there's a genuine and sincere need for an authentic self and its further growth and development. Still, a visit to the virtual world enables people to take on a different identity, or even identities. And be someone they in essence are not. "

"Question: But are the friends that you make there for real? And can you hold on to your true identity while also being someone else in the virtual world? Is it not more exciting to discover all the beautiful things in your own, non-virtual world, instead of creating an ideal situation in this other, virtual world?"

"Aim: To (learn to) see our own, physical world with bright new eyes. See the beauty of it, admire it, and adore it."
It would appear that Ego Leonard wants us to get off the computer and head back into the meatspace.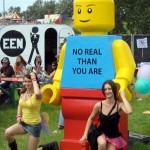 Two similar lego men were found on beaches in Holland (2007) and England (2008).
Here is a video of a Lego Man washing ashore in Zandvoort:
Each different Lego Man seems to be tagged with a number on the back. They have different sayings, too, like Get out and play and Explore real emotions out of life. Sounds like good advice to us! Thanks, Lego Man!
H/T to Alyx for the story.