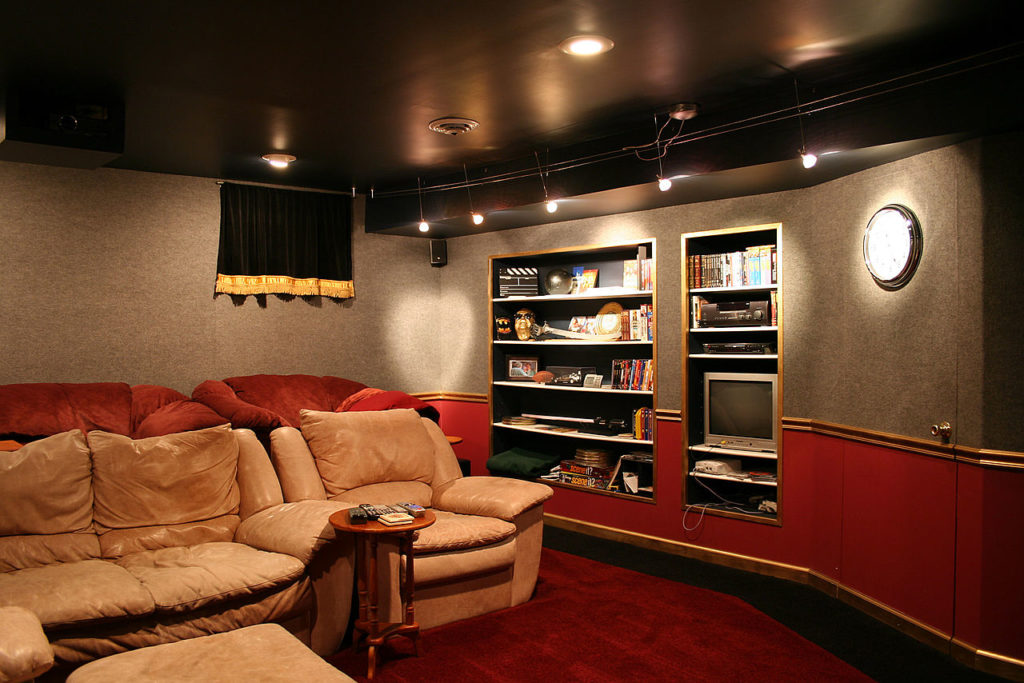 Often one's basement is overlooked and forgotten; it is simply a place for storage and unnecessary clutter.
However, a great deal of Toronto's contractors have now made basement renovation affordable and easy. Torontonians are beginning to take notice.
Basement renovations can be undertaken for a variety of reasons. Toronto's long winters can easily damage basements with rain, snow, and resulting mould.
In addition, residents are realizing that a renovated basement is an easy way to increase a home's value. There is nothing nicer than showing prospective clients a warm and pleasant room, as opposed to leading them down a dark flight of stairs.
Other Torontonians are excited about turning that dark and dingy space into a home theatre, playroom, studio, workshop, or even extra bedroom. Perhaps even a man cave to watch sports with the boys. The opportunities are endless.
Whatever the reason, instead of an overlooked space, a beautiful finished basement is now easily attainable.
Before The Basement Renovation
Inform your insurance provider before starting a home renovation projects to ensure that you will be covered during and after renovations.
If your basement has humidity problems, it is crucial to remedy the problem before renovations.  It will be very costly to have to redo the basement twice because of humidity damage.
Basement Renovation Company Locations in Toronto
A great deal of basement renovation professionals are available all over Toronto.
The biggest concentration are located just east of Palmerston-Little Italy in the Avenue Road and Bloor Street East area.
Further north, the Emery neighbourhood near Weston Road and Finch Avenue West offers options as well.
In addition, there is also a great deal of contractors just outside of the Greater Toronto Area (GTA), in the surrounding suburbs of Mississauga, Brampton, and Concord.
Types of Basement Renovations
Turnkey Renovations –These are considered the biggest renovations one can undertake. A turnkey renovation means redoing the entire basement after stripping everything to the base and removing walls and floors. New insulation, walls, gypsum ceiling, flooring, and seal joints are then put in. In addition, the walls and ceiling are painted once again.
Additional, smaller renovations include adding a bathroom, redoing flooring and ceilings, insulation, and re-painting.
Cost of Basement Renovations in Toronto
The average cost of basement renovations varies depending on work needed to be done, choice of material, and the complexity and timeframe of the project. However, a standard budget would be around $30-$75 CAD per square foot.
Turnkey Renovation – In Toronto, a turnkey renovation will cost approximately $24,000- $40,000 CAD depending on size and complexity.
A 400-500 square foot basement costs approximately $14,00-$17,500 CAD, while a 500-600 foot square basement cost $17,500-$21,00. A 1,000-1,400 square foot basement costs approximately $42,000 CAD.
Bathroom – Adding a bathroom will cost approximately an additional $3,500 CAD.
Painting– Repainting a basement costs approximately $1,000-$1,500 CAD.
Flooring – Cost of flooring varies; however, it normally costs approximately $10 per square foot. Laminate flooring is often the more economical choice, while vinyl wood flooring is best for basements prone to dampness. Natural wood floors are not recommended due to their high cost and tendency to shrink and bend in dampness.
Ceiling – The cost of a ceiling ranges from $2 per square foot for a gypsum ceiling and $5 per square foot for a suspended ceiling.
Insulation– Insulation costs about $1-$3 per square foot.
Waterproofing– Waterproofing a basement costs about $5,000.
Additional costs – Additional costs to think about are electrical wiring, which costs about $50-$100 per hour.
Choosing a Licensed and Reputable Contractor
One of the most important things to consider when choosing a contractor is their reputation and reviews.
In Toronto, it is easy to search user reviews on Better Business Bureau to see the businesses' rating.
In addition, Trusted Pros is a helpful national contractor referral website to screen potential contractors, offering reviews of services.
One way to ensure proper licensing is to search through the Canadian Home Builders Association search page.  Contractors join the Association to prove that they are well-established.
Insurance and Liability Issues
According to the Canadian Home Builders Association, it is of upmost importance that all contractors have liability insurance, in case there is an accident during renovations. Without liability insurance, the homeowner pays for the worker's medical bills in case of injury on the property.
This should be a certificate of insurance or a copy. Minimum coverage should be $1 million CAD and cover bodily injury to a third party. In addition, it is important to check the expiry date of the policy.
Basement renovations are undertaken for various reasons, such as increasing value or creating a special space. Whatever your reasons, basement renovations are easily achieved through various Toronto contractors.