Bacon fans (and there seem to be a lot of bacon fans) might want to check out this new Bacon Ice Cream dish from a place called Udder Delight.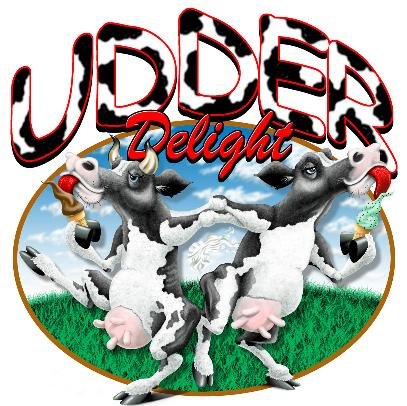 Cow's Eating Ice Cream – You Eat What You Are, I Guess
From the Washington Post:
A block from Rehoboth Beach's grainy sands and churning waves (Delaware), where beach-goers are baking on a Tuesday afternoon in a 95-degree swelter, Udder Delight Ice Cream House is busy scooping ice cream flavors so outlandish it makes some of its chill-seekers scream, all right.
On a day trip from Bear, Del., Linus and her friend Leigh Ann McDonough, 24, flip-flopped into the otherwise old-fashioned ice cream parlor thinking icy-cold mango smoothies. But Udder Delight owner Chip Hearn steered them to an impromptu taste test of his newest creations — one of which may be the world's first barbecue-flavored ice cream. The other test flavors: a chunky bacon ice cream and a pale-red Cackalacky Spice Sauce ice cream.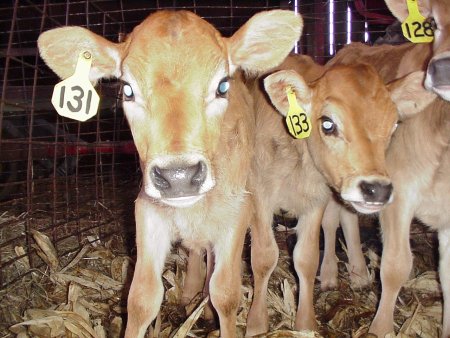 Please… help us!
"You can do almost anything with ice cream — that's the beauty of it," says Hearn, whose XXXL size shows how beautiful he finds ice cream.
There's a life-size replica cow head mounted on the wall, to represent the specially bred Jersey cows that supply the extra butterfat-rich milk for Hearn's creations. Its head sways back and forth. When manager Tricia Collins speaks into her lapel microphone, the cow's mouth moves and speaks. "We welcome people and scare little kids sometimes — not on purpose," says Collins. "If you moo at people as they leave, they are offended sometimes."

I shall haunt your dreams forever, little children…
"I'm not going to do pork rind," he says. "This is Delaware. If we were down South somewhere, you know, maybe."
Pushing the envelope of flavor fusion is the biggest and boldest trend in the ice cream biz right now, with ice cream makers such as Cold Stone Creamery making anything-but-vanilla flavors such as wasabi ginger and black licorice.
When Hearn held a by-invitation tasting a month ago, about 150 people agreed to sample and review 18 flavors, from the new bacon one to others such as cappuccino stout beer, key lime pie, Black Forest (dark chocolate ice cream with chocolate chips and dark Oregon sweet cherries) and honey fig.
The winners: chocolate raspberry chip, Moo Moo (raspberry ice cream with peaches and strawberries) and Going Nuts With Chocolate (chocolate ice cream with peanuts, almonds, cashews and pecans) — all good sellers.
Hearn didn't put his "Viagra" flavor to the test. It's made from orange and pineapple in a blue ice cream, with Pop Rocks added at the end. "When it goes into your mouth, you get all the Pop Rocks popping," he says, making no medical claims for the concoction. Do people buy the Viagra ice cream? "Less people buying it than asking about it — but they see the sign and they have to ask," Hearn says.
The weirdest ice cream Hearn has made — and it's hard to pick just one — was inspired by the Kennett Square Mushroom Festival in Pennsylvania. "We did mushroom ice cream and mushroom-pecan ice cream," he says. "The mushroom sucked, but the mushroom-pecan rocked! But I would guess that mushroom-pumpkin was the weirdest one ever."
"We just made a cucumber-onion ice cream using Vidalia onions," Hearn confesses. "The onion didn't work, but the cucumber did."
Udder Delight's various flavors include:
African Vanilla
Brown Shugah Vanilla
Cake Batter
Viagra
Peanut Butter and Jelly
Bacon
"Bon-Bon Jovi"
"Britney Spears"
Cappuccino Stout Beer
G.I. Love Dirt
I Scream for Nerds
Lollipop
Memphis Barbecue
Moo Moo More Fruit
Tastykake Oatmeal Raisin Bar
Not weird enough for you? Apparently, there's a place in Bar Harbor, Maine called Ben and Bill's Chocolate Emporium. They make lobster ice cream. Yes, have some, please.
The taste is, how shall I say this delicately… disconcerting. Bruce, who shared a cup of Ben & Bill's signature Lobster flavor with me, wasn't quite as diplomatic in his reaction. I believe his candid analysis was, "There is nothing grosser than biting into a frozen chunk of lobster in your ice cream!"

I still wound up depositing the unfinished remains of our small cup of lobster ice cream in a Bar Harbor trash receptacle.

So, go ahead and try it. Just make sure there is nobody around to hear you scream.

Are ya ready to throw up, kids? Aye Aye, Captain!