New year, new PR. Every day should be a new opportunity to be better than your former self, and the dawn of a new decade introduces all-new ways to take your performance to the next level. You've got grit, you've got tenacity, and now you have a lineup of innovative products designed to take athletes like you to their absolute A-Game. Not only that, but more and more science is coming out that suggests it's not all about top-tier gear—it's about your mindset, too.
We're going to cover some essential advice on how you can amplify your athletic performance by narrowing your focus, dialing in your nutrition, and bringing out your inner beast with the best sports equipment on the market. Get ready to launch into 2020 and hit your full stride.
First Thing's First: The Set Up
A phenomenal workout starts with exceptional tools. Let's take another look at the fresh fitness equipment you need, updated since we wrote last in 2019.
Comfort is absolutely key when it comes to exercise, no matter what your sport is. Whether it's your sports bra digging into your shoulder blades or painful chafing between your thighs, the sensation can be so distracting that it gets in the way of your laser-sharp focus.
No matter what athletic attire you're shopping for—leggings, tanks, compression socks—make sure you read the label to confirm the fabric is made with moisture-wicking textiles that can keep you cool and dry as you turn up the heat.
Experts stress how important proper footwear is for maximum comfort and minimum stress on your joints and bones.
Did you know that there are custom orthotics you can get, contoured to every exact curvature in your foot, so you can distribute pressure most evenly for the best shock absorption upon impact? Or that there are motion control features built to stabilize wobbly ankles and correct overpronation that leads to pain in the shins, knees, and hips?
But even if you have perfectly sized arches, no need for extra support or protection against pronation, there are tons of technological innovations that can take performance to new heights. Take reflective shoes, for example; these guys enable you to train at the dusk of dawn or until the last light fades, so you can push your boundaries around the clock.
Or how about digitally connected shoes that use an embedded chip to give runners real-time data on their fitness and post-workout stats? If you want to be better, measure your improvement!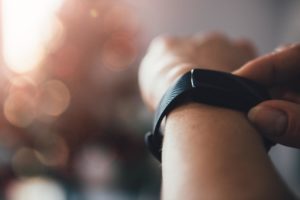 But it's not just runners who stand to benefit from this advanced tech—all athletes can add a fitness tracker to their training program to monitor their heartrate, calories burned, quality of sleep, water consumption, and so much more. The great thing about many of these trackers is that they can connect to your phone, allowing you to take a call, respond to a text, or read an email without skipping a beat.
Next, Nail Your Nutrition
Your body is a temple—treat it like one. The reason you may be feeling tired and sluggish throughout the day isn't because of how many calories you've burned or hard you've been training; it might be because you lack the essential vitamins, minerals, and nutrients your body needs to recover from an intense workout. Next time you refuel, make sure you're doing it the right way if you want to prevent injury and avoid fatigue.
Most of us don't drink enough water. While that's universally detrimental, it's especially harmful to athletes who want to heal the micro fissures in their muscles so they can rebuild faster and stronger than before. Experts recommend 64 ounces of water intake, but the more you sweat, the more you need to replenish your H2O, so be sure to adjust accordingly.
Finally, Align Your Mind
Athletes of every sport should implement yoga into their exercise program. It's hands-down the best way to center yourself while improving balance and practicing breathwork.
If yoga truly isn't for you, then you can wind down and teach your body to rest by reading from some of the best in your league. Head to a bookstore and pick out some titles that can teach you a thing or two you didn't know while quieting your mind before a great night's sleep.
With these six tips you'll wake up feeling rested, restored, and better than before!