Rajasthan- the royalty state with huge monuments glorifying the culture and heritage of the state. Also, Rajasthan is a state of divinity with its famous temples and serenity of various lakes and rivers. This combination of royalty and divinity attracts the lot of tourist every year. Along with this a different side of Rajasthan is also there which is being explored by the visitors in their Rajasthan Tour Package. That is adventurous sports which are luring the interest of tourists these days.
The chances for fun are plentiful here, from the jeep safari to Paragliding. The following are the top 5 Adventure Sport to Try on Rajasthan Tour.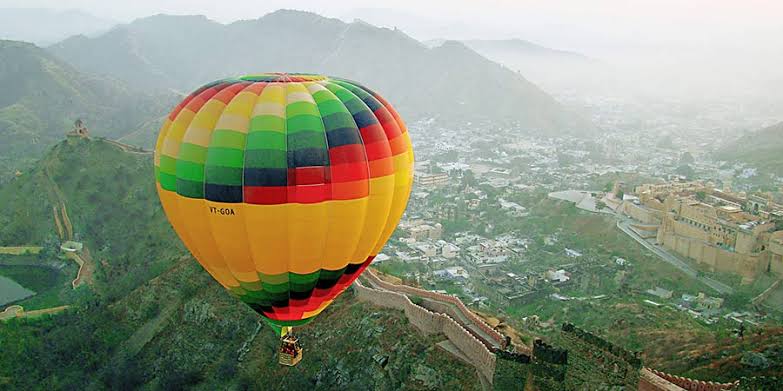 Hot Air Balloon Rides
It might be the most thrilling adventure sport in Rajasthan that visitors can check out. If you want to experience Rajasthan's real beauty at a certain point, nothing will be the best choice than Hot Air Balloon Rides in your Rajasthan & Jaipur tour package. Places in Rajasthan for Hot Air Ballooning are Pushkar and Jaipur. Depending on the weather conditions, you can enjoy the experience at the time of dawn or dusk.
Paragliding
In Rajasthan is still in its early stages, but is becoming increasingly popular every day. The thrill and enthusiasm that this activity brings to Rajasthan make it one of the most exciting things for adventure lovers. Lifting over Rajasthan's beautiful covers, you can share amazing memories. But only operators fitted with the required equipment may participate in this operation. You can visit Jaipur, Jodhpur, and Jaisalmer for the experience of Paragliding.
Zip Lining
A new thrilling and adventurous sport amongst the tourists in Rajasthan is Zip Lining. If you are not light-hearted and a height lover person, it is the perfect thing to experience for you. You will fly high across the Jodhpur outer hills with the aid of a zip line. The whole area from a huge height will be an enjoyable experience. With this sport, you will enjoy every moment and period. Zip Line is a great way to revitalize your body and soul and satisfy your body's adrenaline.
Cycling
Cycling in the Rajasthan holiday Package is said to be the most enjoyable outdoor activity in almost any age group. Rajasthan is a cycling route through different destinations that reveals the geographical diversity of the state, contrast of different cultures, lifestyles, etc. Therefore, cycling itself is a fun experience, and the opportunity to explore any place or venue at your leisure is the greatest part. Where you can enjoy the cycling experience are Udaipur, Jaipur, Kumbhalgarh, Ranakpur, Pushkar, Khejarla, and Mount Abu.
5. Water Sports
Rajasthan State, there is no lack of water bodies or lakes. Today, there is a dramatic increase in events around the lakes. The adventurous sports of Rajasthan can be consciously attended if you like. Parasailing and boating can be attempted on the lakes. In this process, some trainers can guide. Use some of these water sports during your next Rajasthan adventure trip. Boating and gliding are two of the most popular water sports here. Rafting is also a very popular sport here. Ramgarh Lake near Jaipur, Fateh Sagar Lake in Udaipur, rafting in the Gomati River, Sillserh Lake in Alwar.