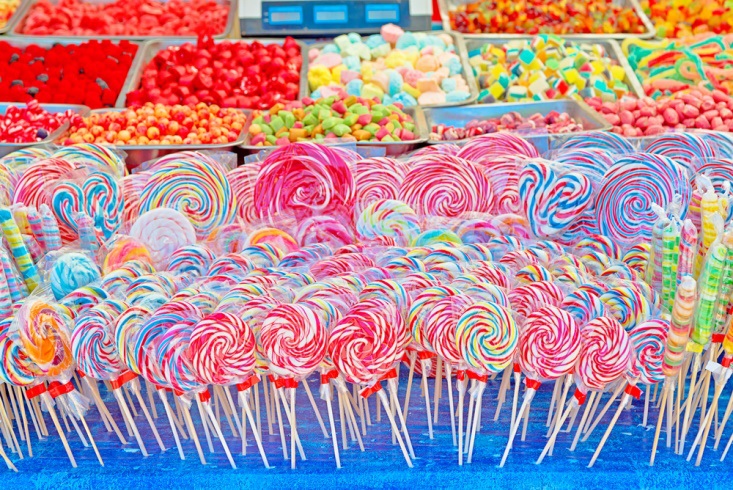 If you love candy, and if you love travel, then have we got a surprise for you. It turns out that the best way to sate your sweet tooth is to pack your bags and journey to one of these meccas of confectionary. We'll look at five cities in the United States that boast the country's best candy stores. From New York and Miami to Austin, Las Vegas, and Seattle, no matter which part of the country you call home you'll be ready to plan a trip to one of these very sweet cities.
1. New York
With a nickname like the Big Apple, you might not expect this metropolis to delight candy seekers. However, it turns out that the apple is covered in caramel, and New Yorkers just can't get enough sweet stuff. Some of the nation's most popular candy stores originated amongst the five boroughs, including the legendary Dylan's Candy Bar. For our money, we'll head to any of the following well-stocked sweet spots:
Economy Candy. From back to front and floor to ceiling, this shop is bursting with retro, novelty, and special treats, and you can't beat their prices.
Li-Lac Chocolates. While most tourists head straight to Jacques Torres, savvier sweet teeth look for this delectably old-fashioned chocolatier.
The Sweet Life. At once traditional and innovative, this shop makes their wonderful and wacky candy in-house, from their mouth-coloring gumballs to Pop-Rocks-studded chocolate bars.
2. Miami
Life is sweet in Miami, where you can go anywhere in a swim suit and flip flops, but the selection of beautiful and tasty candy shops makes a trip to the Magic City even sweeter. The Dylan's Candy Bar here is rated as one of the most beautiful candy stores in the world, but a number of local shops add flavor and individuality to their sweet treats. After hitting the beach, you might hit one of the following confectionaries:
Sweet Party Factory. While your favorite candies adorn the shelves, the staff at this shop will also help you design a custom treat perfect for your tastes.
Jan's Homemade Candies. Featured on the Food Network for its intricate chocolate designs, Jan's boasts some of the finest specialty candy in the country.

3. Austin
In recent years, Austin has emerged as a foodie's paradise, but only recently have sweet teeth begun to flock to this southern candy hot spot. Austin confectioners tend to stay loyal to the basics, offering sweets that as delicious as they are simple. On your trip to the Lone Star capital, you must stop in at these shops:
Big Top Candy Shop. Equal parts circus and candy store, this whimsical shop boasts a 16-foot wall of candy, a soda counter, and all the lights and sounds of the center ring.
Candy Cart. Austin is the nation's food truck headquarters, and this mobile candy shop sates sweet teeth on-the-go.
Lammes Candies. In operation since 1885, this local staple offers regional sweets you're unlikely to find in other cities.
4. Las Vegas
Candy isn't always the first thing on travelers' minds when they step onto the Strip, but after a long night out in Las Vegas, a simple sweet treat usually hits the spot. Whether it's a reward for surviving Sin City unscathed or a consolation prize for doing the best you could, delicious candy will definitely make you feel better. While you wander the city waiting for the sun to set, you might want to stock up on sweets from these stores:
Hershey's Chocolate World. One of the best flagships of the iconic American confectioners, this shop contains monuments to chocolate as well as exciting Hershey's memorabilia.
Wonderland Bakery. Candy lovers know the best stories always contain something sweet to eat, and this shop offers treats reminiscent of notorious candy-filled tales, like Willy Wonka and Candyland.
5. Seattle
Confectioners and chocolatiers in this city love mixing traditional methods and unusual ingredients, and the result is high-quality, elaborate, and flavorful sweets. No matter your favorite candy, there is a store that perfectly crafts it here, from cotton candy to lollipops to sweet and salty caramel. It is difficult to choose when so many stores are specialized, but here are our Seattle sweet shop favorites:
Sweet Mickey's. Loyal to its Swedish roots, this candy store produces outstanding fudge and licorice while peddling a number of other nostalgic sweets.
Chocolopolis. With rigorous standards, this shop doesn't allow just any chocolatier to be featured on its shelves, which means you will find only high-quality candy.
The Charming Candy. Nowhere else but here will you find hard candy flavors like black pepper — melon, watermelon-basil, or pistachio-marshmallow; the lollipop is no longer for kids.