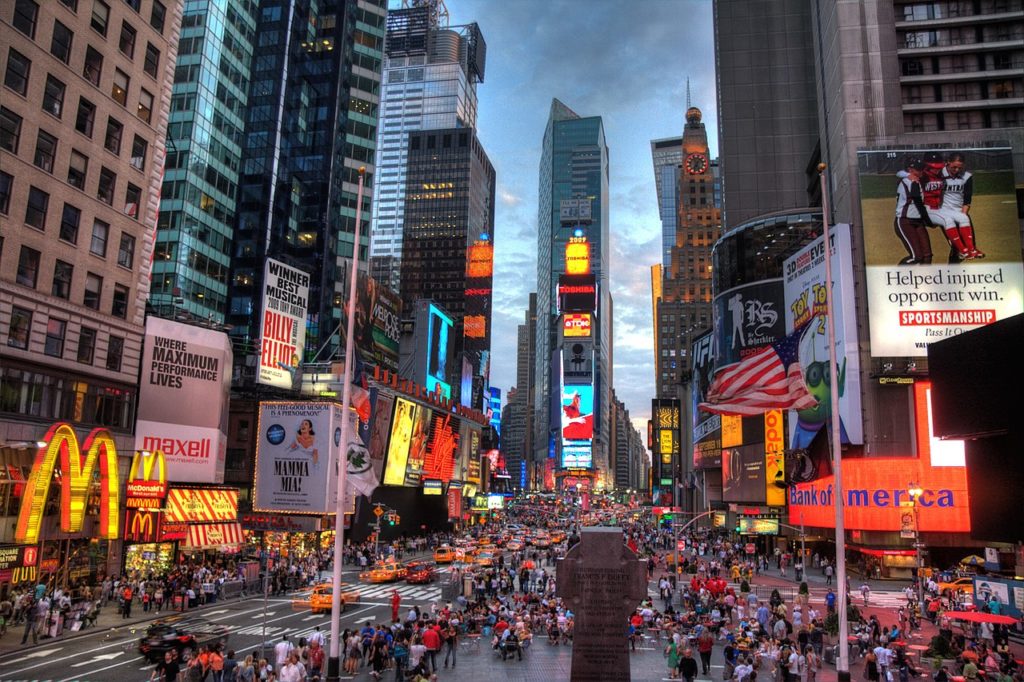 What is that one place that you must visit at least once in your life? Without a doubt, it is New York! If you want to know how the most happening place of the world feels like, then you have to head out once to this hub of cosmopolitanism. Whoever visits New York once, keeps on falling in love with it over and over again. A city of cities, this place has room for everyone and the culture here has been built by everyone who has ever lived here – from Americans to Chinese to Indians to Lebanese, New York is home to everyone.
So, are you thinking of travelling to this marvelous city once? Then let's get to know New York a little.
Titbits about New York
Situated on the East Coast of the USA, New York is actually made up of five boroughs or segments. The five boroughs of New York are Manhattan, Brooklyn, Bronx, Queens and Staten Island. Of these, Manhattan is the core area and the New York City area that we are most familiar with. It is the hub of all activities and is the main attraction centre of New York. If you want to visit the main highlights of New York like the Empire State Building and Central Park, then this is your place.
The best way to traverse through New York City is by taking the underground metro rail, and you can travel to the different boroughs of New York from the main city area. New York, being located on the East Coast, remains quite cold during the winter months and the weather starts getting better from April. Chilly winds set in from about October, and hence, if you are not a fan of cold and snow, you better avoid this city during the winter months. And if you are wondering what to eat, then you have to try out the coffee, locally brewed beer, pizzas and of course the iconic hot dog!
Planning your travel right
So, if you are indeed thinking about travelling to New York, then you will have to get your planning done right. Let's take a look at the things that you will need to take care of:
New York is a very busy city with tourists and professionals flying in and out of the city all the time. So it is essential that you keep a list of the hotel New York where you will be able to stay. The hotels will be busy quite a lot throughout the year and hence you will have to make sure that you get your bookings done in advance so that you do not get into any last minute hassle when it comes to finding a place to stay. You can get your bookings done through online travel agencies to avoid such difficulties.
The next thing that you need to do is book your flight tickets. The earlier you book, the lesser fare you will be charged. The fares go higher during Christmas and during the fall when a lot of people tend to visit New York. This is one thing that you have to keep in mind when getting your booking done. The other thing that you have to bear in mind is that there are two airports – JFK and Newark Airport. So when you make your flight bookings, always check which airport you are opting for and how far is it from the place that you have made arrangements for your stay at.
Subways are the best way to travel long distances within the city. Finding a proper parking spot in the main city area can be a really hassle and hence it is best to stick to public transport if you want to tour through the city.
So, what are the places that you should visit when in New York? Let us take a look at some of them:
Statue of Liberty: Located in Ellis Island, this is the iconic structure of New York, and hence, a must-visit. Take a ferry and make your way to the Statue of Liberty to witness this wonder with your own eyes because no trip to New York is complete without seeing the Statue of Liberty.
Empire State Building: One of the most iconic buildings of New York, rise to the top of the building to witness a view of the city from high above! This is a must if aerial views are your favourite.
Times Square: Every day is a carnival at Times Square. Thousands of people take to the streets of Times Square every night and enjoy a celebratory mood. From eateries to theatres to operas, and of course, some of the headquarters of the biggest companies in the world, Times Square is the perfect place if you are in the mood to celebrate!
MOMA: The Metropolitan Museum of Art is also a very popular place which you have to visit if you are interested in modern art. With paintings from renowned painters to upcoming artists, if you want to witness some really fine pieces of art, this is your go-to place. Take a day and tour through the halls of the museum.
Central Park: Enjoy a nice stroll? Then you should definitely go to Central Park. Located smack in the centre of Manhattan, this is a place which remains active from morning to evening. A visit to Central Park is a must.
Hudson River Park: Nothing beats a river breeze and if you want to enjoy one then you should head out to the Hudson River Park and take a nice stroll during the time of sunset.
9/11 Memorial: Remnants of the 9/11 tragedy can be found here in the museum, and a lot of tourists visit this place.
New York is one of the fascinating cities in the world. There are so many places to visit here and many things to do. Truly cosmopolitan, one definitely must plan a trip to this place if they want to visit one of the liveliest cities across the globe!