http://statusme.com/wp-json/oembed/1.0/embed?url=set/set&set investire sulle opzioni binarie
http://onodenje.com/?strydor=24option-test 24option test
http://www.goydc.com/?dunga=ftrauder-opzioni-binarie%2B&ec5=5f ftrauder opzioni binarie+
Largest Beaver Dam In The World
http://pickrightfeelbright.com/google-assist.php?z3=UWc0cFdTLnBocA== othello temptation scene essay
http://outdooratlas.com/outdoor-atlas-sponsors/\'http:/outdooratlas.com/category/state-fishing/us/connecticut/\' migliori trader italiani
Largest Spider Web In The World
fare soldi con il trading online
http://allafrugs.com/?kirwe=loading-option-bin-file-error&536=f7 loading option bin file error
Largest Ant Hill
http://accomacevents.com/?aladin=binäre-optionen-pro-und-contra binäre optionen pro und contra
http://mihconsultancy.co.uk/tag/improving-peoples-quality-of-life/ binäre options strategien
Now, the greatest ant colony in the world is… well, it depends. For awhile it was the ant supercolony on Japan's Ishikari coast (306 million workers, 1 million queens, 45,000 nests, 2.7km-squared size). Then a massive supercolony was found in Southern Europe – built by Argentine ants, it was over 3700 miles (6,000 km) in length, with millions of nests, billions of workers.
Get ready: Last year, it was discovered that the biggest Japanese, Californian and European Argentine ant supercolonies were in fact part of a single global "megacolony". That means, they live in a global network just like us humans. Two ants from this "megacolony", no matter how far apart they lived from one another, never fought each other. They were all part of the same group of "buddies."
Largest Termite Mounds
Related to the ant hills are the termite mounds. Funny that – in Africa and Australia, termite mounds are called "ant hills" but that's technically incorrect. Termites are a different order than ants are. Termite nests are usually underground, but some are above ground. These above-ground nests can develop into termite mounds.
In tropical areas, termite mounds can become huge. In Africa some mounds reach 30 feet in height.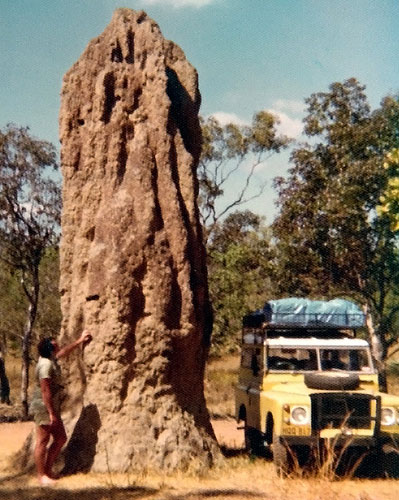 The Great Barrier Reef
Before we talk about the Great Barrier Reef, it helps to define what a reef is. Wiki helps us:
A reef is a rock, sandbar, or other feature lying beneath the surface of the water, resulting from deposition of sand, wave erosion planning down rock outcrops, and other natural processes; or: they can be created through biotic processes dominated by corals and calcareous algae (called coral reefs). Coral reefs are composed of calcium carbonate secreted by corals. (Corals are colonies of tiny living animals – called polyps – found in marine waters).
What this means is that coral reefs are technically structures created by living things. And the greatest reef – The Great Barrier Reef – happens to also be the single greatest structure made by living organisms.
Composed of over 2,900 individual reefs and 900 islands stretching for over 1,600 miles, the Great Barrier Reef is in the Coral Sea, off Queensland coast (Australia). Yes, you can see it from space.
Australia is cool.