Ladies it is the day and age to upgrade your style statement with various types of Kurtis. These Indian garbs are smart and versatile pieces that you can create unique ensembles with. Whether it is for casual wear, professional appearance, weddings or for your college style. The Kurti never disappoints for it ticks all the fashion boxes. Make this the first choice when choosing what to wear for various events since you can get a style for each of these outfits. The myriad of styles and designs to choose from can be a challenge to know what is best. However, there are some Kurtis that are a must-have to complete your wardrobe like the trendy chikankari Kurtis. Plus, they are worthy of every investment like the other Kurtis mentioned below.
Anarkali Kurti 
As every fashion designer is trying to keep up with the growing Kurti designs. The Anarkali Kurti style is one that should be the first to invest in among the many available. It is a Kurti look that will still be a win come 2020. One great reason that most people love Anarkali is that they are elegant and full of grace. Plus, it suits everybody frame whether you are an hourglass shape, apple or pear-shaped. Nonetheless, you must know how best to style this Anarkali Kurti before investing in several pieces of the same. It is best paired with leggings, fitting churidar and palazzos for a fuller look. Also, depending on the look you want to achieve an ethnic jacket and a long flared skirt work best too. Wear this to traditional events, special events like weddings and also formal events. There are many types of footwear you can wear with this look but ensure it matches well. Plus, the accessories you opt for are like scarves and jhumkas. All in all, ensure you avoid them duringlong trips and pairing them with stockings.
A-line Kurti
Although many other solutions are coming up to keep up with the upcoming trends. Others like the A-line Kurti have already made their mark, especially among young people as one of their favorite Kurti types. There are many types of this Kurti in the market from the colors, patterns, and designs that you can choose from. They are perfect Kurtis to wear to dates, as everyday wear and also for casual outings. To pair this Kurti well you can choose jeans, Patiala, tights and dhoti pants depending on where you are wearing them too. Accessorize this Kurti with stud earrings, chain pendants, and a bag. Women with an apple shape, inverted triangle shape, and wide shoulders should avoid this look for it does not suit their frame and structure. Choose the length that you find best suits you like a calf or knee-length.Then wearwith your favorite pumps, sandals or mojris to match this Kurti to the event you are attending.
Reversible Kurti 
Do you want a Kurti way to expand your wardrobe? Then get a reversible Kurti for with it is like receiving two Kurtis at the price of one. The reason behind it is that you can create two looks by wearing this inside and outside. They are a perfect look for interviews, college wear and also for daily wear. Plus, there are many ways to pair them with treggings, palazzo, jeans and also a skirt. The best footwear to complete your look are wedges, flats, heels, and sandals. When wearing this look it does not fit best as a wedding or party look. However, it is important that as you shop you keep an eye out for this Kurti since it makes your Kurti look more advanced. Try this look if you want to change into two different styles in one day like from an interview to a shopping look.
Asymmetric Kurti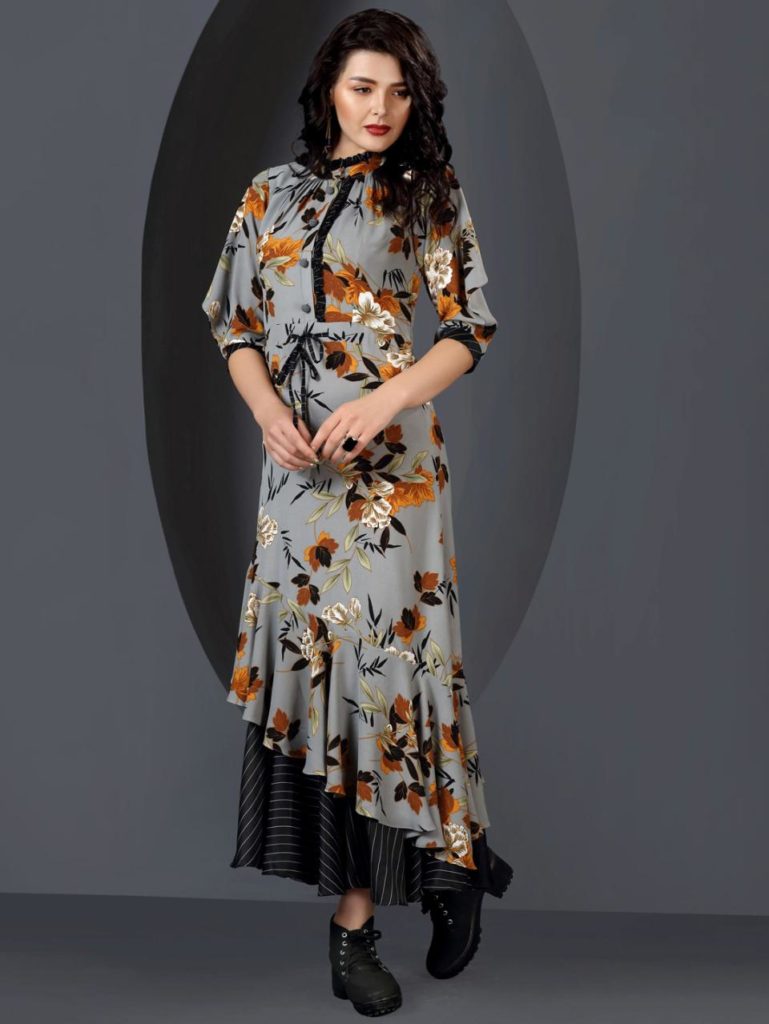 If you are used to wearing Kurtis with a straight line you can opt for one with an asymmetric hemline. They are unique with how you can easily stand out of the crowd due to their unique style. Plus, if you want to look taller this is the Kurti for you. There are many designs to this Kurti that you can choose one for the various occasions that you want to attend. For instance, when paired with skinny jeans, leggings or even bottomless you can wear it to college, evening parties, trips and also as a daily wear outfit. Since this look is commonly worn with a lightweight fabric like chiffon or crepe. It is a look that you can play within different embroideries as long as your accessories it right like with a tote or sling bag, sunglasses among others. It is important to avoid palazzos or skirts as lowers and also if you are apple-shaped as well.
Tulip Kurti 
This Kurti is not only fashionable but it is a flattering style that any girl should have among their Kurti collection. Additionally, due to its style, every college girl should own at least two pieces of this Kurti. The tulip Kurti will win you many compliments especially due to the design that resembles a tulip on the hemline and distinguishes it from other Kurtis. It is perfect to wear on a date, to college and casual parties. It is best when paired with straight pants, tights or jeans depending on which one you favor. This trendy Kurti always gives a lasting impression on the occasion you are attending. Therefore, ensure that you accessorize it perfectly with a statement necklace, ring set, and a sling bag. Choose comfortable footwear like peep toes, Kohlapuris, and wedges. To win with this Kurti avoid pairing with Patiala, skirts or wearing it with no bottoms. Also, it is a bad choice for Kurti if you have to attend an interview.
In summary, the above Kurtis are some of the must-have pieces that you should invest in. However, there are still others than you can consider to add to this list especially if you have tried them before and they are ideal for your fashion tastes and persona.