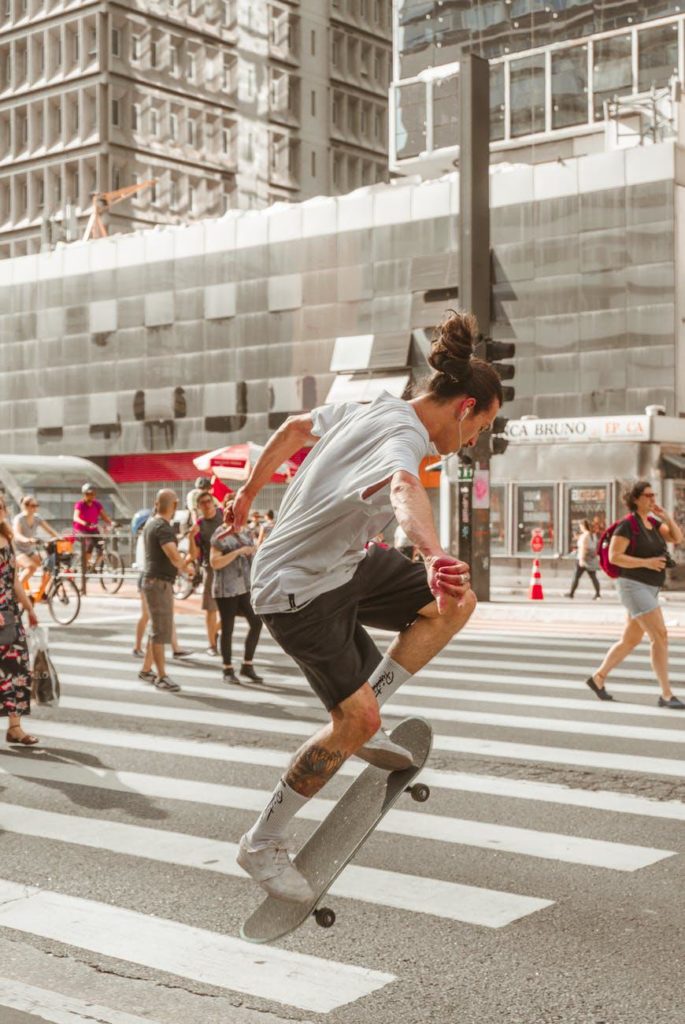 Since Tony Hawk first made his debut back in the late ninetiesi, skate clothing has been insanely popular among a supposedly alienated youth. Twenty years later, that 'alienated youth' section of society are all grown up… and we still love a good skate shoe, even if we need to wear a shirt and tie through the week.
So how do you go about assimilating the skater clothing style into your normal look in 2020 – or now that you are a grown up? Don't panic. We have it all sussed out already. Stick to our skater styling tips and you should be just fine. Adults can still get on a board now and then, after all.
How to Wear Skate Clothes like an Adult
Here are our best fashion secrets for wearing skate clothes like an adult.
1 – ANYTHING can be casual
When you're a skater, anything can be casual… when you are a grown up skater, adding a touch of the smart to balance out all that casual makes all the difference. A tie die Tee is almost forgivable if you have a smart black blazer to match… well, not quite, but we're going skater, not hippy. Be casual but add in the smart. That's the secret to imitating that skater boy/girl.
2 – Become a Skater
The easiest way to dress like a skater as an adult is to get back on your board. Go see what the kids are wearing. Put your board in your briefcase one day and let out your inner child. Seriously. This is the top tip on WikiHow…
3 – Keep it Practical
When you are a young skater your pants around our ass is 'cool'. When your ass is older than your pants? Not so cool. Keep those trousers practical and avoid the skate short unless it's high summer. Practical clothing helps you live like an adult while the skater touch brings out your youthful exuberance. Instead of a basic hoody, buy a fleece lined one… practical, see?
4 – Start with Your shoes
As with most styles, starting with the shoes and matching your way up is a great way to keep it smart. Everything will match, you can choose the colours that you like, and you can buy that ideal skate shoe with the nice flat bottom. Roll on comfortable weekend and evening walking. You cannot go wrong with a good pair of Converse. They ought to be a wardrobe staple.
5 – Swap Stuff Out
Swap some of the things about the skater style out. For example, an over-sized Tee is much smarter in plain white than it is with a brand name splashed across the front. Keep your embellishments for your actual skateboard. The Trend Spotter recommends swapping out skater shorts for chino shorts. You get the same impression but the fabric is much more lux. It adds class…
What if you're Just Not Cool?
For those that just can't get a handle on the skater style they crave: head on down to our skateboard clothing store, Lucre, and let us dress you. Not physically – don't worry – but we can show you what to wear and how to wear it. Everyone can be stylish and everyone can wear skate clothes. Give it a shot. Come on down and discover your inner cool.