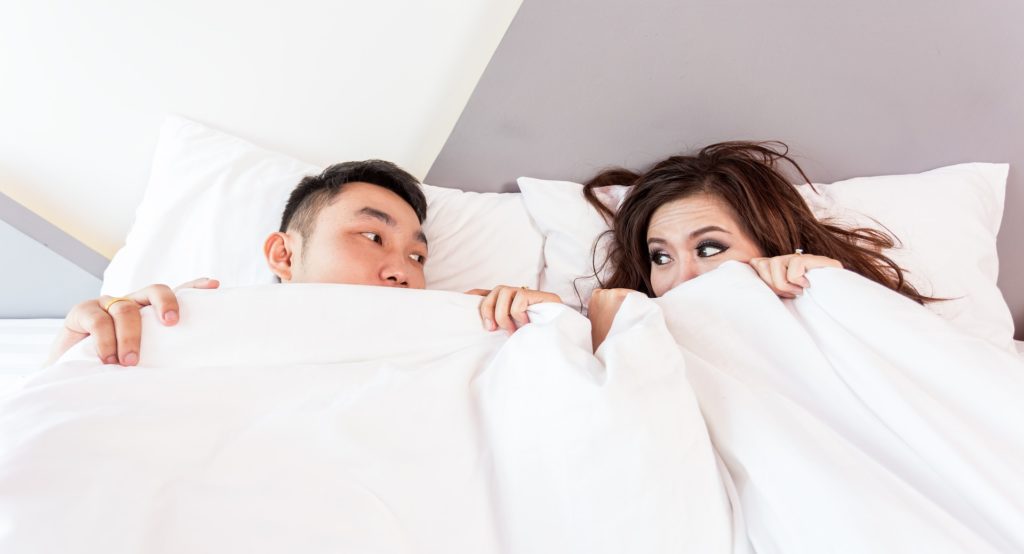 You might notice that overtime sex between you and your partner has lost its spice and flavour. Things in the bedroom have become a routine and need a little inspiration. You may discover that the thrill of having sex with your partner is gone and this can ruin your relationship even though you both love each other.
You can, therefore, spice up the bedroom affairs by trying some wild and dirty things. These naughty and wild things can be a game-changer for you and your spouse. It can turn that already dull sex life to liven up again. Below are some specific points that will take your sex life to the next level.
1. Dirty talking
You might not be very skilled at talking dirty with a partner, but it sure arouses sexual desire. If you and your partner have no clue on how to go about it, you can start from the basics. For example, you might feel terrific when your earlobe is sucked or licked. When you get used to this, you can push the dirty talking up the notch a little bit. This is also an excellent opportunity to learn new things and know your limits. You and your spouse can also try phone sex. You don't necessarily have to be cities apart before you can have phone sex. This will go a long way in spicing things up in the bedroom and make you and your partner enjoy sex more.
2. Roleplay  
Engaging in role play can, of course, increase sexual energy and intensity and make you and your partner have a pleasurable, non-forgettable experience. It could be in the form of a teacher and student or a police officer, and a prisoner- whatever works for both of you is beautiful. You can create a sexy scenario and heighten the illusion of newness by dressing the part- a pirate eye patch, a cowboy hat, a blonde wig, tall boots, E.t.c. Find out any of it that turns your spouse on. This will be wild, freaky, fun and exciting.
Also, you can use a scarf or a tie to hold your partner's hand to the bedpost. Couples who try submission and dominance technique always have the best sex. If your partner is not comfortable with the idea, you can order for a sex doll at Sexdoll.com and use the sex doll to spice things up in the bedroom.   
3. Have sex outside the bed
Research has shown that most couples have sex in the bedroom almost every time. Sex should not be restricted to the bedroom alone. You can have sex anywhere as long as it is convenient for both partners. The urgency of having sex can bring a massive thrill to a person, but needing to wait till you get to the bedroom can make the whole excitement disappear. 
For a change, have sex with your partner or spouse in a different place. For example- in the kitchen, at the back seat of your car, a quickie at the restroom of that restaurant, e.t.c. This can indeed be very naughty, wild and funfilled.
4. Share sexual fantasies 
Everyone has a sexual fantasy. It is possible to turn both of your fantasies into reality. Most couples do not want to always open up about their imaginations; they are often scared that their partner will judge them. An open-minded partner will not judge you but will instead want to try new things with you in bed to continually satisfy you sexually. Both of you will play each other's fantasy making it naughty but fun at the same time. This helps you to know your partner's inner desires, thus breeding more intimacy and openness in the relationship.
5. Make a sex tape together
You don't have to be hungry of fame to be able to shoot a sexy video that is starring you and your spouse or lover. Just position the camera or phone to be pointed towards the bed, and you both should get it started with seducing each other, caressing each other, rolling around between the  sheets and having great sex. The only thing that is better and more pleasurable than making a sex tape is watching it together. Both of you will be so turned on, and of course, your sexual appetite will hit the rooftop. Don't let your sex life with your partner remain apathetic and lethargic. Try this dirty idea and re-awaken you and your lover's sex life.
6. Incorporate sex toys
Research has shown that 95% of couples that keeps enjoying great sex make use of sex toys. Sex toys will help both of you to have multiple orgasms during the act and explore areas that you both never imagined before. So what are you waiting for? Quickly get some vibrators, dildos and We-vibe sync to spice things up. This will also help you try kinds of stuff like double penetration, threesomes without inviting a third party in your sexual act.
In conclusion, do whatever it takes no matter how naughty it might seem to spice things up in your sex life because happiness in bed will amount to a healthy relationship.