Introduction
Recent studies indicate that each household makes at least one major change or renovation in their home every two years. Some of these changes can be a necessity, while some may just be a force of habit. 
Changes done to one's home are known as renovations. These changes are often long-lasting due to the time and money required to complete them, which is why it is very important that all of your mind is completely invested in these tasks so that you're able to make the right decisions and have achieved complete satisfaction by the money that you are investing behind the cause.  
Having to re-design the interior is one of the most tedious tasks that anyone can come across, especially if it is the kitchen that we are working on. Since kitchens require a lot of installations, the time and money invested in a kitchen can be far more in comparison to the rest of the house. 
Revamping your kitchen
Kitchens are a sensitive area for each house. Since it is where you spend a lot of your time on a daily basis, it is important that the room provides you enough comfort. From cabinets designs to the wall paint, everything has to be in perfect harmony for your kitchen to speak for itself. If not, the end result may be well disappointing. 
When you're working on your kitchen, one of the most pleasant thoughts is when your kitchen feels fresher, and reminds you of the outdoors. While we are holding onto that thought, we understand that the only color that will help make that thought possible is the color associated with life, renewal, growth, harmony, freshness, and many other attributes that will make your normal kitchen turn to a place full of positive energy. 
Importance of colors
Choosing the right colors is extremely important as colors play an important role in our personality. For example, black is often called mysterious and associated with negativity. Similarly, Green is associated with life. According to studies, green kitchens are often inspired by Greenhouses due to their symbolic association with health and growth. According to studies, people who have green color in any part of their houses are happier as the color provides them with positivity and diminishes negative thoughts. 
The power of Green
Since Green is a color that very few people have an eye for, even the people who love it often doubt if they should go with it. They wonder how others would perceive their choice, or lack the understanding of how they can play around with the color in the first place. Fortunately, since Green is the color of life, it offers us a lot of room to play around with. There are many colors with which multiple combinations can be created, and we can easily achieve perfect synchronization with whatever color we feel fits best with green.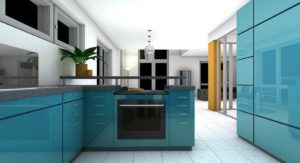 There are multiple shades of the color Green that you can choose from, and each shade has its own importance. Apple green, for example, is a unique choice for cabinet knobs or shelves. The color has a fun and retro vibe which offers a lot of room to play around with. You can different patterns or textures to the color to make it look more appealing and not like an apple. Similarly, with emerald green, you can give your kitchen a sparkling look. It goes best with brighter countertops, accents, and shiny appliances. Green may not be the choice of the majority, but the ones who go for it understand its significance and are more than happy with their choices. 
If you think closely, there is a lot of room for you to play around with the color pallet. You can consider having a kitchen with green cabinets, a green and white kitchen, or a completely green kitchen. Since there are so many shades that fall under the green pallet, you can choose each of your kitchen accessories of different green and still achieve synergy between all of the colors. 
This is a great tip to keep in mind for interior design in general. Modern bathroom design, for example, hinges on choosing surfaces that match one another. Read more about that here: https://www.caesarstone.ca/latest-news/interior-design-articles/bathroom-design/what-defines-a-modern-bathroom-design/
Your choice of colors is also dependent on the number of installations and the overall size of your kitchen. For example: If you have a smaller kitchen, you can decide to go with a lime shade of green for the doors or the ceiling, and still give it the same lively vibe. On the other hand, if your kitchen is spacious, you can choose to paint it white and install green kitchen cabinets to give it a wonderful balance. 
How to go about it?
It is important to remember that the order in which you select your kitchen items is very important. This allows you to make each decision with careful consideration and reduces the chances of having regrets at a later stage. For example, it is advised that you finalize the kitchen cabinets, backsplash, appliances or countertops before you finalize the wall paint for your kitchen. This allows you to play around with your choices of paint. However, once the paint is done, you would not have enough room or options to choose from for the appliances.
Conclusion
Since home renovation is a tedious task, if not done correctly, you may end up spending a lot of time and money without achieving satisfactory results. it is important that you plan each of your steps carefully and act according to plan. Do not rush into decisions or you may end up going back to the start. 
There are multiple ways how you can design your kitchen. From the lightest of green to the darkest one, each shade has a lot of distinctive qualities to offer you. However, it is important that whatever color you finalize, you have the patience to live with it every day or you may end up wanting to redesign your kitchen once again.