Travelling in a wheelchair is definitely a tough and stressful experience. Starting from reaching to the airport on time to boarding flight by wrestling with your luggage is a difficult task for all the disabled people.
When you are seated on a wheelchair, it can be challenging for an individual to carry out all the necessary documents before boarding a flight. But as life goes on, all potential problems have an appropriate solution to it.
Although there are airlines which offer the best service to the passengers who are on a wheelchair; however, it is still difficult for them to manage their travel by air.
According to reports prepared by the BTS (Bureau of Transportation Statistics), about 25.5 million of Americans who are older than five years have reported travelling-limiting disabilities.
More than 57 percent of passengers have reported that flying in an aeroplane is difficult for them.
Therefore, we have come up with eight tips for you that will help you in reducing the stress and difficulties when you are travelling seating in a wheelchair by air.
1. Arrive Early to the airport-
All travellers who are travelling in a wheelchair are advised to reach the airport before time, especially three to four hours ahead of the journey time.
If you are travelling on an international flight, you can reach the airport before four hours, while if you are travelling on a domestic flight, reaching two to three hours should be fine.
These are the usual timings that are set by the airline service providers; however, if you are travelling in a wheelchair, you can reach the airport much ahead of these timings.
A metal chair usually takes more time for the passengers to pass through the check-in counters and security checks.
And if you are carrying luggage more than 15kgs that consists of medications, then security officials will take a lot of time to check these medications and determine whether it is authorized for you to carry such things on a flight.
2. Carry a seating cushion-
Before the wheelchair that you are taking with you is being stored in the plane, try to carry or buy a pillow for the seat.
You will be able to sit on it while the flight is on the air. This will assist you in sleeping comfortably by changing your positions in the plane as per your comfortability.
Buying a cushion relieves you from all the pressures that you experience when you are on the air. This also helps you to control pressure ulcers if you are suffering from such diseases.
It also helps you in lowering the risk factors of respiration problems and other health issues associated that you usually experience when you are travelling by air.
You must keep the cushion in a safe and secure place so that it doesn't get stolen or lost while you are flying.
3. Cross check all the information that you have on the tags –
When you are boarding a flight; then it's necessary for you to check all the information that you have on the tag.
For example, if you are travelling in American Airlines, then make sure to cross verify all the information that you have for the preferred American Airlines vacations destinations.
This will keep you away from the hassles that occur in the last minute as you would know everything about the destination where you are travelling to.
4. Label your wheelchair
Although there are fewer possibilities that your wheelchair will get separated from the tags or will get lost when you are travelling in the air; however, to take safety precautions, it's necessary for you to label the wheelchair that you are carrying and have a proper backup plan.
Finding a safe and secure place to keep your wheelchair is necessary so that the tag doesn't get separated or torn off from the wheelchair.
In such cases, where you see that there's no tag on your wheelchair, then try to put another one to it. You can also put stickers, tapes, ribbons, or anything else that can be used as a symbol on the wheelchair.
Don't forget to mention your contact details on the label, so that in case you lose it, the airport officials or a responsible person can contact you using your contact details.
5. Remove your side guards –
If the wheelchair that you are carrying has side guards, then removing it is the best option for you when you are in the air.
Side guards usually get damaged or lost in the check-in points or during the security checks. This also means that anything that is present in your wheelchair that has the potential to get damaged or lost have to be removed before boarding the plane.
Therefore, to make sure that you don't have any valuable items in your wheelchair, take all those things off your wheelchair. You can fix them back as soon as you reach the destination.
6. Search for wheelchair accessories located nearby the areas where you are flying to:
Before you board the aeroplane or begin with the journey, it's essential to find a local provider dealing with wheelchair accessories in the destination you are travelling to.
Try to get in touch with the airport officials in the destination who will be able to provide the contact details of the person who can assist you in buying relevant accessories.
By doing this, it becomes easier for you to find the broken accessories of your wheelchair or any other accessories that got lost during your travel. This helps you in keeping yourselves away from all the hassles that you may face in the destination.
7. Inquire with the airlines if it's possible for you to board the flight early –
Some airline service providers accommodate this request for the disabled individuals who can take some extra amount of time to settle themselves in the plane by boarding them early.
As it is difficult for the disabled people, especially someone who is sitting on the wheelchair to get adjusted within the flights, airline service providers give them an option to board the flight early so that they can easily sit comfortably and adapt to the seating arrangement.
By doing this, you will also appreciate the attendants not rushing you at the last minute to the flights. It also helps the attendants to get some more time to make you seated comfortably within the flights.
8. If you are using a power chair, give additional information and instructions to store or park it.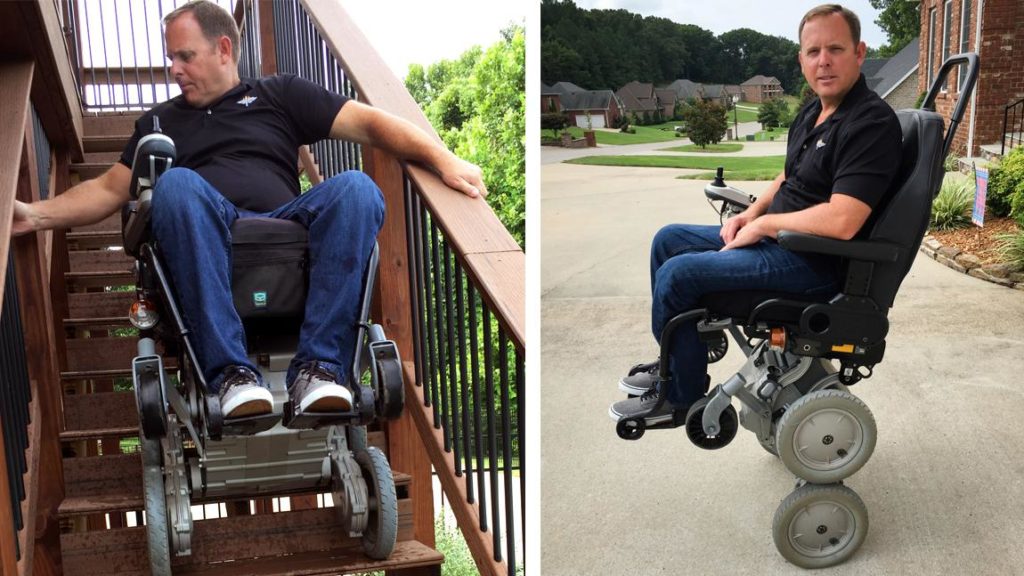 When you are using a power chair, the specifications of these chairs are different from the usual ones. Therefore, you can instruct the airline service providers to store and park it properly so that the power chair doesn't get damaged or lost.
Final Words
Travelling by air in a wheelchair can undoubtedly be difficult, but it can be much enjoyable when you follow the steps mentioned above.
The more measures you take, the chances of enjoying your trip also goes high.
Therefore, chalk out a list of the items that you are going to carry and take adequate precautions to secure all the things before you fly, will help you in making your journey memorable.