Kangaroo Island, located off the coast of South Australia, is a remarkable place to spend with family, friends, or as a solo explorer! You will undoubtedly find an abundance of activities to do and destinations to relax and unwind in. Even more amazing, is the chance to enjoy the unrivalled landscapes, spectacular wildlife, and numerous natural attractions. 
Getting to Kangaroo Island by campervan is easy. There is a nice drive to Cape Jervis, and then a short ferry ride across. By bringing your camper van hire from Adelaide with you on the ferry, you will have the convenience of transport and accommodation all in one, a perfect option for exploring and enjoying this one-of-a-kind destination.
If you are wondering what all the fuss is about, here are some of the top reasons to visit Kangaroo Island by campervan.
Wildlife of Kangaroo Island
It's difficult not to notice pink pelicans circling the skies, sea lions lounging on Seal Bay's beach, and dozy koalas lazing in the trees. On Penneshaw, you may sit in the sand grandstands and observe the groups and couples of little penguins as they make their way to the shoreline in the evenings.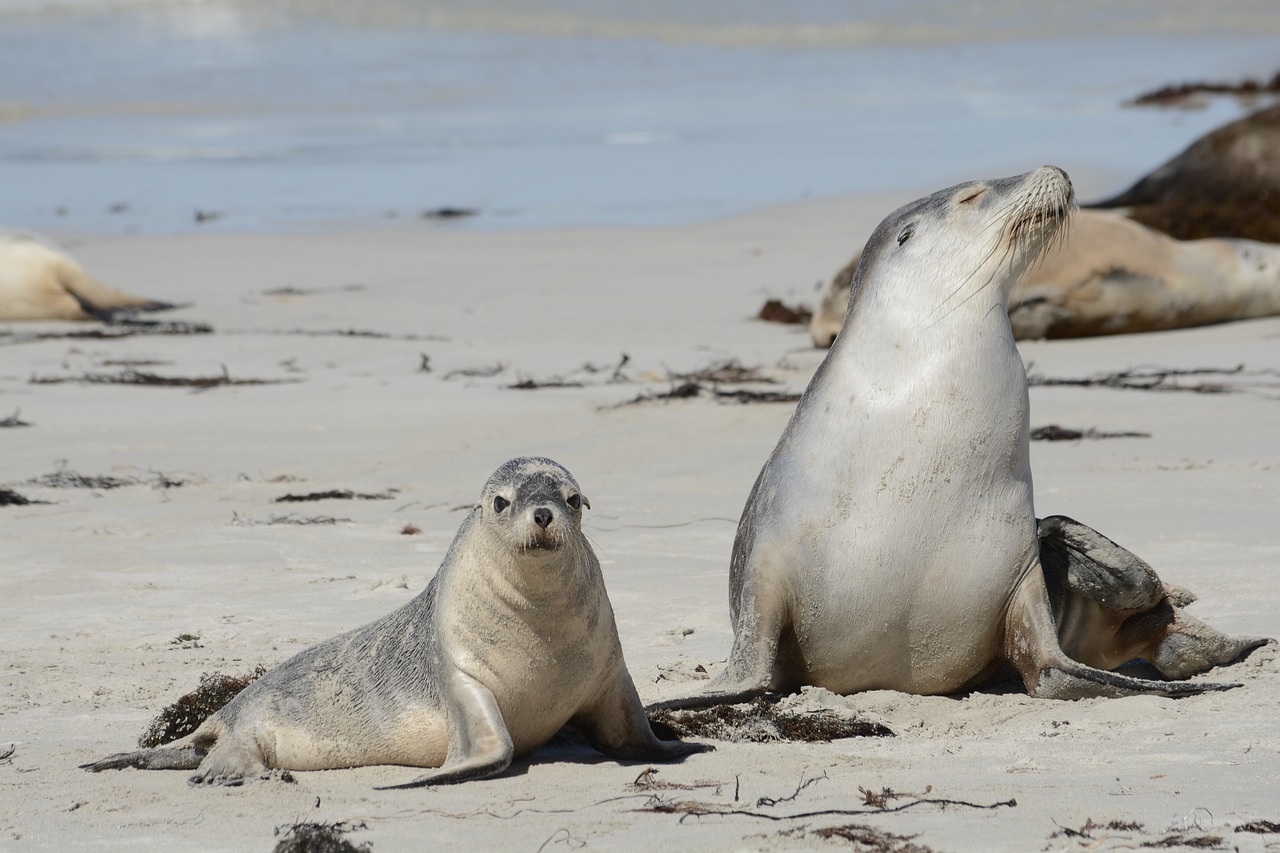 At Kingscote Wharf, you can watch the cheeky pelicans and spot little penguins, seahorses, and enormous cuttlefish. On a night-time cruise along American River (fondly called "The River" by locals), you will encounter wallabies, brush-tailed possums, and kangaroos. At Stokes Bay, you may get up closer with a possum and hand-feed flocks of lorikeets. Koalas can be held here too! In Cape Gantheaume Conservation Park, stroll among the birds of Murray Lagoon, including ducks, swans, and waders. Countless peaceful kangaroos live at Flinders Chase National Park, where you may see Australian sea lions at Seal Bay and over 7,000 New Zealand fur seals interacting amusingly in and around Admirals Arch. Koalas can be found pretty much everywhere, but Western Ki Caravan Park and Hanson Bay Sanctuary have some of their most well-liked hangout spots for them in the trees.
Wine and Food of Kangaroo Island
Stock up on fresh foods and wine, courtesy of the dozens of farmers who operate between Kingscote to Cape Willoughby. Visit the Cape Willoughby winery's cellar door, the first and biggest winery on the island, shuck oysters in Penneshaw, and stop by the MacGillivray and Kinsgcote farms that produce sheep's milk cheese and mouth-watering Ligurian honey. Cozy cafes and upscale dining establishments can be found all over Kangaroo Island. Dine on Nepean Bay oysters while watching the water in Penneshaw, and savor other top-notch seasonal seafood. On the South Coast, savor a five-star meal amidst the wilderness, and in Parndana, take in the sunset with a seafood platter by the rockpool. Take home a case of your favorite wines, stock up on gourmet foods to take back to your campervan, and prepare a picnic for a day of sightseeing. 
The Rich History of Kangaroo Island
Visit three of South Australia's earliest light-houses at Cape Willoughby, Cape Borda, and Cape du Couedic. At Stokes Bay, you may surf at Vivonne Bay or swim on the pristine secluded beaches. Visit the Remarkable Rocks in Flinders Chase National Park and the underground caverns of Kelly Hill Conservation Park via a scenic drive in your campervan.
On the remote Dudley Peninsula, stay in the restored lighthouse keeper's cottage at Cape Willoughby. Alternately, you can read the diaries of displeased lightkeepers in the Flinders Chase National Park lighthouses at Cape Borda and Cape du Couedic. Dive the wreckage of the Portland Maru and the Loch Vennachar, which sailed into the west coast cliffs in 1905, in which all 27 crew members died. Go to Frenchman's Rock, the place in Hog Bay where French adventurer Captain Nicolas Baudin moored in 1803.
Climb Prospect Hill's 512 stairs exactly like explorer Captain Matthew Flinders did to examine the island. At Reeves Point, you may visit the original mulberry tree, well, jetty, post office, and quarry locations of South Australia's earliest recognized European colony. At the Parndana Soldier Settlement Museum, find out about the troops who turned 100,000 hectares of dense, uninhabited scrub into farms and residences. Kangaroo Island has evidence of Aboriginal campsites and stone tool ruins dating back at least 16,000 years, although it is unknown why these people left the island or when they last inhabited it.
The Pristine Coastline & Beaches of Kangaroo Island
Fish from the famed Emu Bay jetty or go on a fishing excursion that departs from American River, Penneshaw, Kingscote, and Emu Bay. Swim at Stokes Bay's rocky swimming hole and off picnic-worthy Penneshaw Beach. Surf the uncrowded surf at Pennington, Stokes, and Vivonne Bays. Sail by Nepean Bay's sand beaches and safe coves. In D'estrees Bay, go on a bushwalk, explore shipwrecks, and see shorebirds and pelicans. You may canoe and camp while hiking through the Antechamber Bay/Chapman River's woodlands, sandhills, and lagoons. The greatest temperate water diving in Australia may be found in the surrounding region. Watch elusive leafy seadragons, blue devils, and harlequins dart in and out of red, orange, and white sponges and tall coral walls.
On a bike trip leaving from Penneshaw, explore peaceful rural lanes, attractive villages, and national parks. Use an all-terrain vehicle to travel miles of wilderness paths or go surfing in Vivonne Bay's sand dunes. Squeeze through the caverns and sinkholes as you go caving at Kelly Hill Conservation Park's enchanted underground tunnels. On the numerous picturesque drives, you may also enjoy the natural wonders of the third-largest island in Australia. On the Rolling North Coast Drive, look for dolphins, visit Stokes Bay's secret beach, and interact with friendly nature and unique farm animals. Visit the Remarkable Rocks at dusk while taking a tour of the south-western section of Flinders Chase National Park.
The Land-Based Adventures of Kangaroo Island
Although the untamed surroundings and clean air of Kangaroo Island will help you sleep comfortably at night, don't skip the activities that take place after dark. In the summer, choose a private beach meal or a romantic candlelit dinner in the rustic shed of Lifetime Private Retreats (December to February). Don't forget to glance up to watch the magnificent stars of South Australia emerge. The island's fauna gets even more active when the day cools off for the evening. You may learn about these nocturnal species that emerge after sunset, such as owls, possums, and even wallabies, by taking a night-time wildlife tour.
Flinders Chase National Park, situated near the western extremity of Kangaroo Island, is one of Australia's biggest parks, containing 74,000 hectares of pristine woodland. The park, which is one of South Australia's most important parks owing to its natural condition and wildlife, is inhabited by a wide range of animals including protected Cape Barren geese, koalas, tammar wallabies, and Kangaroo Island kangaroos. Keep in mind to go carefully through it, and you'll be welcomed with fantastic animal views in this park and on the island.
The spectacular natural feature that resembles a cluster of dangerously placed rocks is located in Kirkpatrick, 23 kilometers (14 miles) south of the resort, and is accessible by taking a 20-minute drive from the resort. The Remarkable Rocks, as this unique geological formation is appropriately known, are a landmark of Flinders Chase National Park. Admirals Arch, another of nature's wild sculptures, lies nearby, where fur seals may be seen playing in the waters or basking on the stones.
Ferry Back to the Mainland
Once you head back to Cape Jervis on the ferry, it's less than two hours to drive back to Adelaide. Alternatively, there are other places to enjoy nearby before you conclude your campervan vacation. Victor Harbor is just forty-five minutes from Cape Jervis, or it's just over an hour to visit the amazing Coorong National Park, home of the 2019 film "Storm Boy", starring Geoffrey Rush.