Seeing new places can broaden your horizons and make you appreciate the beauty of the universe even more. Yet, aspiring travelers might not know how to start their journey or the locations they must visit.
So, if you have recently been bitten by the travel bug and want to add new places to your bucket list, consider visiting the following locations:
Lake Tekapo
Located in New Zealand, Lake Tekapo is a great location to kick start your wandering adventures. This place simply seems out of this world and looks more like an exquisite painting. It simply has it all: colorful flowers, glaciers, and turquoise water. However, don't let its icy atmosphere fool you, as you can always warm up in the Tekapo springs while watching the stars.
Hossa National Park
For an unforgettable camping experience, look no further. Hossa National Park in Finland is a camper's dream with its lush trees and beautiful landscape. Yet, if you want to camp there you need the proper tools, including tents and lanterns. If you're a beginner, you should read reviews to make sure you're getting the right tools, so the insightful reviews by the team of experts at the Camping Gear Guide can be a great place to start. Thus, you can ensure that your trip goes without a hitch. On the other hand, for a more glamorous experience, check out the accommodation provided by the park. You can stay in beautiful cabins instead of setting a tent.
Machu Picchu
In Peru, Machu Picchu, the lost city of the Inca civilization, has always been at the forefront of the greatest tourist locations in the world. The way its structures are still standing today has puzzled scientists for years. With this city's unique architecture, it has withstood earthquakes for years without collapsing. So, make sure to take a lot of photos there, as you cannot simply miss out on this experience.
Santorini
Greece is known for being an awesome tourist location, but have you seen pictures of the small island of Santorini before? Full of mouth-watering dishes, music, and culture, Santorini can surely impress the pickiest travelers. You can enjoy its beautiful black sand beaches and take a dip in the Aegean Sea, not to mention that you'll also love the nightlife there.
Mount Fuji
Japan is full of great locations, so for a view that you can only see in desktop wallpapers, head to Mount Fuji in Japan. To truly appreciate Mount Fuji, take in all its beauty from above in Chureito Pagoda. A pro tip though, make your visit in spring. This way, you can see the cherry blossom trees in full effect, completing the beautiful picture.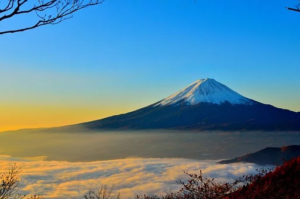 The Highlands
With the rising popularity of the hit show Outlander, more travelers are flocking to the Scottish Highlands for a taste of history. This scenic location is full of beautiful green mountains and ancient castles. So, start exploring. Maybe you can even get to wear the traditional Scottish kilt and dance to the beautiful folkloric melodies!
Venice
Venice is a traditional destination, but that doesn't mean it's lacking in charm. For artistic people, Venice is definitely the perfect location. To enjoy Venice to the fullest, make sure to make a stop at St. Mark's Basilica to see its beautiful architecture and appreciate the effort that went into creating its frescos. For a more romantic touch, hop on a gondola with your other half and let the beautiful melodies serenade you.
Bali
Considered one of the hottest tourist destinations right now, Bali is the epitome of relaxation thanks to its serene beaches and lovely temples. You don't also have to burn a hole in your pocket to go there because the accommodation is pretty cheap. Bali is the perfect mix of nature and culture, as you'll enjoy looking at it dormant volcanoes and exploring its wilderness.
The Simien Mountains
As far as mountain areas go, Ethiopia offers the best experience. Camping in the Simien Mountains is a blast, as UNESCO has recognized this location as a part of the Ethiopian heritage. However, you need a local guide to facilitate the process because the trek can be a bit difficult. So, make sure to be prepared.
The Grand Canyon
Even if you're a U.S. citizen, you cannot deny that the Grand Canyon has a special appeal. After all, it's one of the seven wonders of the world and a testament to the forces of nature, so you cannot miss this out. Be sure to visit it during the sunrise and sunset for exquisite photos. Also, don't forget to check the Havasu Falls.
To really see the world, you need to get out of your comfort zone and properly explore it. Don't be afraid to visit new places because you'll not only enjoy them, but you'll also learn something new while you're at it. With our diverse list of locations, you'll never want to go back home!