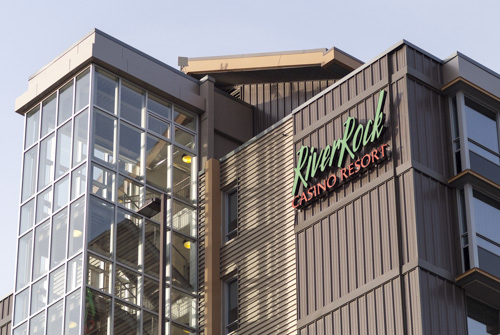 Canada is known for many things: wide expanses of wilderness, friendly people, artery-clogging cuisine (hello poutine!).
One thing that might surprise you is our northern neighbor's propensity to gamble. Those long, dark winter nights can only be filled with so much hockey.
When there aren't games to be played or watched, thrill-seeking Canucks will head out to the local casino to play their favorite table games, or they will load up their favorite site in search of a great experience.
If you are looking for the best casino in Canada, be sure to check out the four listed below and you'll have the peak gaming experience you are looking for north of the border.
If you are a little rusty at table games, check out some online gaming sites here so you can avoid looking like a buffoon when you play live. Good luck at the tables!
1) River Rock Casino Resort, Richmond, BC
Located on the Canada Line of Vancouver's Skytrain, finding some action at River Rock is an awesome way to begin or end a trip to British Columbia.
Best known for its poker offerings, it offers some of the best high limit action in Western Canada, and the BC Open has attracted major tournament players like Daniel Negreanu in the past.
They also offer a comprehensive off-track horse betting, 1100 slot machines, and the best selection of baccarat games in North America (who knew?).
2) Cowboys Casino, Calgary, AB
Ever wanted to combine a night out at the bar with a bit of gaming? At Cowboys Casino in Calgary, you can do just that.
Located on the Stampede Grounds just southeast of Cowtown's vibrant downtown core, it is at its rowdiest during Calgary's signature festival, but from Thursday to Saturday nights throughout most of the year, the action is wild and wooly, whether you are on the dance floor or at the tables.
From Pai Gow and Baccarat in the pit to matching wits with oil money laden opponents in the poker room, there's lots of action to be found in the latter if you are looking to wager your money.
3) Fallsview Casino, Niagara Falls, ON
Out east, there are few better venues for gaming excitement than Fallsview Casino in Niagara Falls.
Situated within steps of one of the world's most spectacular waterfalls, and with plenty of other attractions surrounding it, there will be plenty of things for other family members to do as you engage in your favorite pastime: chasing the big payday with wise wagers.
With a floor size equivalent to that of three football fields, there's a game for every taste here. With 3,000 slot machines, Caribbean stud, roulette, craps, and so much more, you'll find the excitement you are looking for at Fallsview.