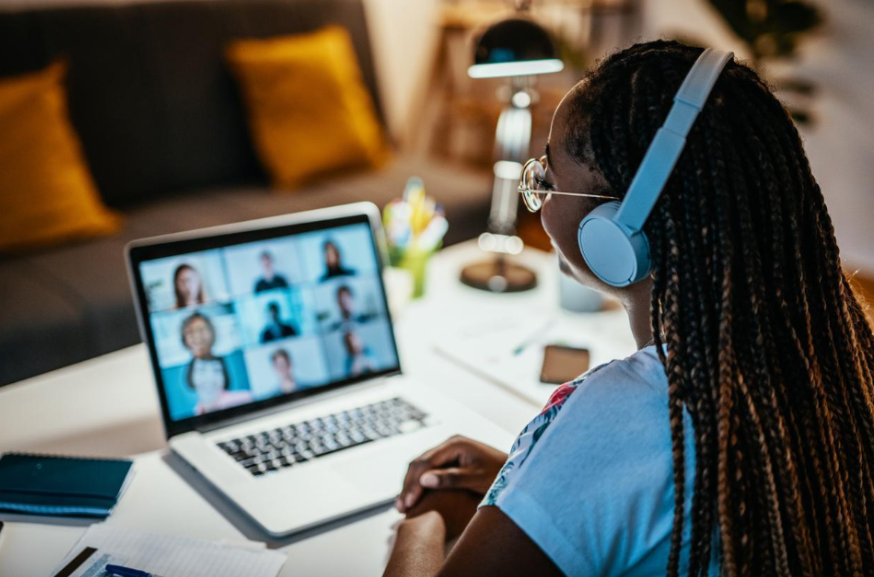 Today, online education is unarguably the most popular and fastest-growing alternative to traditional higher education. Due to the Covid-19 pandemic and the need for social distancing, the percentage of students studying online has risen exponentially in the last few years. Distance learning, as it is sometimes called, today has more than 6.5 million students currently enrolled in several online courses. Students now have the liberty of studying everything online, from short courses on specific subjects to part-time MBAs and full-time bachelor's and master's degrees.
Nowadays, most top accredited universities are beginning to offer online courses and programs, making them available to prospective students who for different reasons choose the flexibility of online learning. Studying online simply means that the same coursework and assessments that are accessible to on-site students are available to you, only that you have the freedom of studying where and when you want with the use of diverse technology and approaches to complete your work.
However, as much as there are many easy ways to get online education at home, and online learning seems like an incredible alternative, there are still some myths and reservations about it, especially when compared to the traditional learning style. The most popular of these reservations is that studying online may not be worth it when you consider it for some career paths. There are questions about why it should be considered and how it can work well for specific career paths.
What should your expectations be as an online student? Will the entire experience be worth your time, resources and effort? Will you be able to present the degree attained to prospective employers without any issues? Here, we discuss reasons why studying online is just as effective as traditional higher education, no matter which course or career path you choose.
Online degrees are just as serious as on-campus programs
One incorrect impression that most students and the public generally have about online programs is that they're much easier than on-campus programs. This is a result of the supposed flexibility, accessibility and self-paced criteria that online learning provides. Candidly, online programs are attractive because of their flexibility and accessibility. However, this doesn't expressly mean that they are easier than on-campus programs.
Are the courses more convenient to access? Definitely. Do online courses allow students to attend classes or courses that weren't available to them in the past? Most times. However, the regular stressors of learning in school and earning a degree still exist for online programs as much as they do for on-campus ones. In fact, when you consider adding school deadlines to your family commitments and work obligations, it may not make it as easy as it's projected.
Online schooling requires dedication, perseverance and time management as much as on-campus programs do. Online programs offer flexibility and convenience, but there is still a level of commitment of time that prospective students will need to devote to attending and partaking in-class activities, going through course materials, finishing prerequisite projects and assignments and preparing for exams.
When you take courses online, it is necessary to schedule and prioritize your learning together with your other personal responsibilities. Typically, students aren't subject to rigid and mandatory timetables set by the authorities, and participation is driven by self-motivation. It is for this reason that studying online is just as serious as the on-campus programs.
Another reason why online study programs are attractive is that they allow students to study while being involved in other things. In the traditional school setting, you generally don't have the chance to work at a job while you're attending classes. You're typically confined within the university community with a slim chance of holding down a job. However, by studying online, there's a chance to do both. While this may seem great, it can quickly become detrimental to both your work and studies if you aren't able to manage them properly.
The bottom line is that contrary to public belief, online study is not much easier when compared to on-campus study. It requires just as much if not more time management and dedication.
Online courses support career progression
There are several wide-ranging reasons why people decide to study online. One of the top reasons is that most people intend to further their careers and improve their skills. Data shows that a good percentage of students who study online already have jobs they're working at and either need to progress or diversify into a different path. When this happens, they are required to take time off to upgrade their educational qualifications. However, considering that they already have jobs, juggling both may be a struggle. Professionals like this will need an option that allows them to juggle both together.
This is the point where studying online comes in. Again, the biggest takeaway for prospective students when they consider online studying is that it's flexible and largely allows them to work according to their own schedule. If you're already employed, this is something you want to look out for. Studying online will give you a good opportunity to further your career while you continue to work. You have the chance to continually add skills and get better chances, so you can even begin to apply for new and better opportunities while you're still in school. This indicates that you are determined and prepared for possible new challenges that will come your way, and best of all, salary raises and similar benefits.
Irrespective of your career path, studying online gives you the opportunity that on-campus study programs may not provide. There's a wide range of courses and programs available, so it's yet another reason to consider it. Another benefit that will be examined in the next point is how online studies provide as much support as you require. This support can be what you need to scale up in your career, which in the long run, is the end goal for you.
Online study provides support and networking opportunities
One very important thing to note about tertiary education is that to succeed, you need the help of others. From friends and family, to classmates and peers, and professors and faculty members, it takes a whole village to successfully attain a degree from any tertiary institution. For friends, family and classmates, it may be easier to navigate that, but for professors and faculty members, a lot of students find it much harder to access support. Earning a degree is much more than just attending classes and passing exams to complete coursework. The most important lessons students learn aren't always found on the pages of recommended textbooks. It's important to have access to your professors to improve your chances of achieving academic and career success.
With online studies, it's much easier to access the necessary support. As an online learner, you get support from an online tutor and a social collective of students, so you can share different experiences and collaborate on projects and assignments. Another great benefit is that you have access to these social networks 24 hours a day, seven days a week, which may not be possible if it's an on-campus program.
You can also access non-traditional student orientation, an online learning resource center with the necessary library of tests, journals and past exam papers, improved crisis support mechanisms, and a social networking platform with students and instructors.
From another perspective, studying online offers you variety and access. You don't have to travel far to partake in courses at a dream institution. From anywhere in the world, you can access some of the top-rated institutions in the world for a degree of your choice. With this level of access, an online program can provide you with the opportunity to meet learners who are interested in the same career path as you, from all around the world. You'll not only be able to network professionally with a wide range of people, but you also have the opportunity to make friendships with people from different countries and cultures.
Taking advantage of the support and network that studying online makes available to you is important and can have a huge impact on your career advancement.
Online programs help to develop important skills
Taking and completing an online program will help you stand out wherever you find yourself. First, you have the choice and access to unique courses that traditional on-campus students usually don't have access to. You can learn something new, and in the process, gain important skills such as time management, self-motivation and self-reliance, that can help you through your career and in life generally.
While you're learning the same syllabus as those who take on-campus classes, you get to learn on your own terms with a good level of autonomy that works for you. When you start and complete online programs, it goes a long way towards showing a potential employer that you, first of all, took the initiative to improve your skill set, and that makes you much more attractive as a prospective employee.
According to research, students that study online typically outperform those in the traditional learning setting. Students within the online community score in the 59th percentile on tests, while the traditional classroom student scored in the 50th percentile.
Studying online is beneficial in a highly competitive and fast-paced work environment. Not only does it strengthen your knowledge, but it also improves your skills and helps you gain new ones while working at your job. Online studies give you the required time and attention you need to learn at your pace. Convenience and flexibility make the process of learning much more self-paced and relaxed, especially if you already have a busy schedule.
Large companies all over the world today have also made public their appreciation for the benefits of studying online.
Online degrees are well-respected by employers
Just like on-campus degrees, online degrees are largely respected by employers and top organizations. Prior to recent times, on-campus learning was the only way students could pursue tertiary education and earn a degree. With time, it moved to online schools and colleges providing an opportunity to pursue a degree online. However, in recent times, especially with the arrival of the Covid-19 pandemic, many traditional schools have now made the online versions of their on-campus degrees and programs available to prospective students.
With the new wave that has hit the market, the demand for new online programs will be maintaining its stand or increasing in the coming years. One reason that we will be expecting new online programs in the next few years is that there is projected economic development and industry growth that will affect the needs of local employers and the general hiring practice trends that currently exist. This is related to employment trends, which also indicates that the general acceptance of online education by hiring managers and executives will increase.
The question for most prospective students is: "Can an online degree get me a job?"
The truth is that we can't guarantee that all online degrees will be accepted for every role and employer, but it's also the same with on-campus degrees. No one can guarantee that a degree earned from an on-campus course will get you the job you desire. However, what's important to note is that the current trends in employer partnerships, the necessity of online education in existing industries and the anticipated growth in the demand for online education, will heighten the chances of acceptance of these online degrees in the coming years.
Online studying allows for payment flexibility
Finally, one common misconception that people have of online degrees is that they're cheaper than traditional degrees. However, are online degrees actually more affordable than on-campus degrees?
One of the important factors that helps a prospective student decide on the school to study is the tuition and if it's affordable. In a lot of ways, online degrees are cheaper than their campus variants, but that's not all there is to it. When you consider an online degree, you know that additional accommodation expenses are not required alongside your tuition and that can be a lot of relief for many people. Also, there are some on-site facilities that will not be included in your overall expenses. However, this is not to say that studying online is extremely cheap.
One benefit when it comes to payment is that they are flexible enough to accommodate your financial needs. Firstly, some programs offer the option of installment payments. Also, studying online leaves you with the chance to work while pursuing your program, so you can earn an income while studying and make the necessary payments when due.
Factors to consider when choosing an online study path
There are a number of factors you need to consider when you want to study to earn a degree online. These include:
You should be very concerned about the accreditation of the online institution and the degree in question. Ensure that you do your research into the institution and its credibility within the industry you intend to apply your degree. Sometimes, you don't have to study at a top-rated institution, rather, it's the reputation and impression that it can make within the industry that you're gunning for that matters.
Researching the tuition and financial support prospects of a prospective institution can be challenging, but it's something that must be done. When considering financial factors, ensure that you consider the following:
Employer partnerships: if your current employer has an existing arrangement or affiliation with an online degree program, then you need to consider it. It can aid you through tuition reimbursements, course customization and fee reduction. Also, if you're planning to raise funding personally, ensure that it's applicable to the subject and institution you're interested in.
Understand the college fees: Make comparisons by checking if the tuition is charged by degree level, per course or semester, or credit hour. This will help you decide which one works best for you.
Different institutions offer support for students in different ways. Before you pick an institution for your online degree, ensure that you check what is available and accessible to students and confirm if it'll be useful to you throughout your studies. Support and networking are an important part of online education, and you need to be sure that they will be accessible when you need them.
Conclusion
Studying online can truly be beneficial for students from different areas of life, no matter what their chosen career path may be. The online education industry has great prospects and will continue to improve employability prospects in the coming years. You can enroll in a program such as the master of lean manufacturing online, just as you can for project management. However, just like any other form of education, you need to consider a number of factors.
From location flexibility and educational support, to career progression and skill development, you can take advantage of the multitude of opportunities that studying online provides you today!