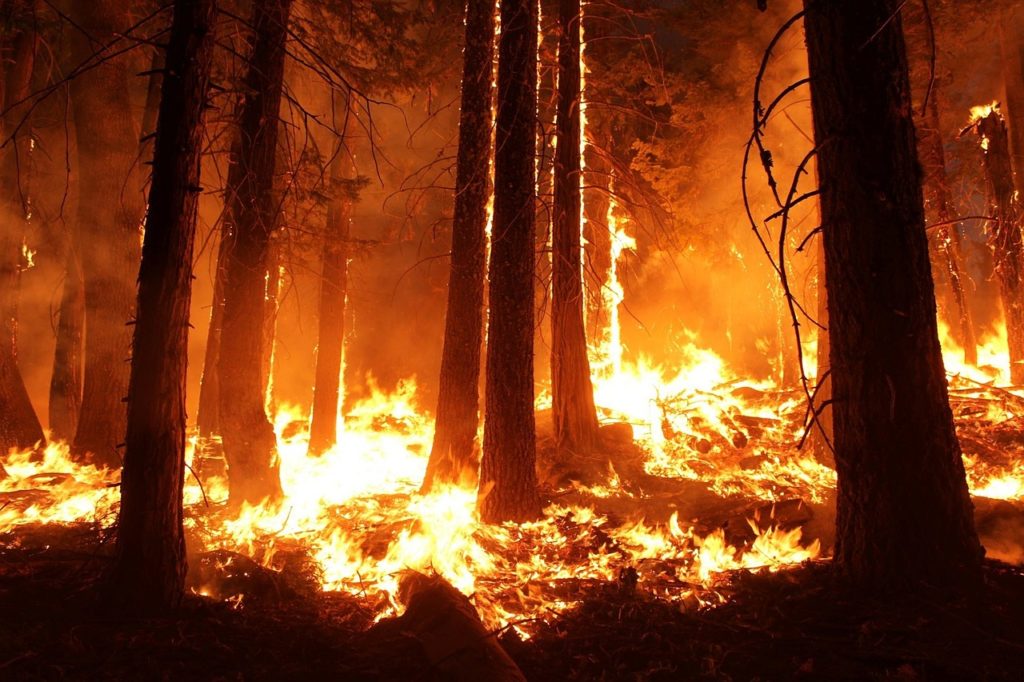 Across California, residents had suffered due to a huge number of wildfires over recent years. 2017 had saw close to 9,000 wildfires, which were reported throughout the state, that had burnt 1.2 million acres of land, a scale that's the same size as the state of Delaware and it caused at least 46 deaths along with destroying 10,800 properties. Within 2018, there has been over 6,000 wildfires reported across California. It was revealed by the California Department of Forestry and Fire Protection and the National Interagency Fire Centre, that 1.4 million acres of land has been destroyed, summing up to $2.56 billion were of damage.
Despite the devastation, the California wildfires had pushed people to the limit and as a result, a lot of heroic deeds were carried out to help those in need, and to show appreciation to those who risked their lives to fight the fires, Retailers of Stairlifts, Acorn Stairlifts highlights some of most heart-warming moments witnessed during the states wildfires in 2017 and 2018…
Sympathy for those who accidentally started a California Wildfire

Close to the Northern California city of Redding, a Carr Fire caused one of most destructive fires to have hit the state.
It was reported that the Carr Fire had begun on 23rd July because a blown tire caused a rim-riding trailer to scrape against the road, which created sparks that flew into a nearby bush, whilst igniting it. After, Redding resident, Rachel Pilli, stepped up to offer support to the unnamed couple who were in the car at the time.
Ms Pilli had written a sympathetic message in a card and she had asked a firefighter, who she met in The Gathering Church to post the well-wishes to the couple, because they were a neighbor of his mother. From this, Ms Pilli went about attempting to collect more sympathetic messages from those she had on Facebook, with dozens of positive responses recorded in less than a day.
She had highlighted to the Record Searchlight in Redding that it was "an ocean of compassion, of love and grace", she also said: "I couldn't imagine the grief. If I were the one responsible for the accident, I couldn't imagine the shame and the torture I'd feel."
Safari West Park owners act of heroism
A wildlife park owner, had took his roles and responsibilities to a new level, as his park (named Safari West) was hit by a California wildfire during 2017, a few miles north from Santa Rosa.
Peter Lang, who is the son of Hollywood film director, Oscar Lang, had displayed quick-thinking attributes from the moment that the El Diablo winds had brought the advancing flames at 50-mph to his 400-acres estate, containing over 1000 animals.
Firstly, he drove his wife, employees and 30 overnight park guests away from danger. Once they were safe, the wildlife park owner grabbed a garden hose he owned and started to battle the advancing flames to prevent them from reaching the site — snuffing out falling embers and coaxing animals, including giraffes, hyenas, cheetahs and rhinos, from one enclosure to the next to keep them away from harm.
Unfortunate Mr Lang's efforts meant he had to sacrifice some personal processions, his home half a mile away from his park was destroyed by the fire. However, he told local media that he "did not lose a single animal", before also stating: "I have a thousand souls I'm responsible for. It wasn't even a decision. This is what I had to do."
The gathering for American Samoa and Hawaii firefighters
Back to the Carr Fire incident, 17 American Samoa firefighters and 4 Hawaii Firefighters were shown appreciation for their efforts by the Redding Residents.
The 21 firefighters had joined close to 170 North State residents at Redding Rancheria's cultural arbor during their time in the city, where they were welcomed by payer, food, drumming, singing and dancing.
The tribal chairman of Redding Rancheria, Jack Potter JR., explained to the Record Searchlight that "it's traditional protocol when you have guests in your land". This occasion made history as Mr Potter Jr went on to mention: "It's the first time the Winnemem dancers came out of Winnemem territory.
"The Pit River Feather Dancers did a dance for the animals, and prayer dances for the water. Then the Winnemem dancers did a fire and water dance; they did the war dance to give strength to the firefighters for this war — the war against fire."
Man saves the life of his disabled roommate
During the 2017 California Wildfires, one man showcased a remarkable deed of heroism after he saved his disabled roommate from a firestorm that engulfed the state's North Bay around Santa Rosa's Coffey Park where they both were based.
Ed Corn cares full time for Heidi Kulick, a paraplegic who were both caught in their Santa Rosa neighborhood. Explaining the initial moments of the situation to KTVU, Mr Corn said: "Everything burst into flames; all the bushes, all the trees…just went cobalt white and 12-foot balls of fire!"
Mr Corn had taken action to wrap MS Kulick in wet blankets, while the firestorm was gathering momentum, and then wheeled her and her cat across the street and towards the nearby park. Mr Corn then explained that they spent the next three and a half hours moving numerous times, taking care to dodge burning shingles, flying embers and even a moment when a car was hurled through the air by a fire tornado that had engulfed the park.
Mr Corn however, doesn't see himself as a hero telling KTVU: "I can't go there because we all go on automatic. We kinda know what to do. Our instincts pop in."
Only a few heartwarming stories that we've managed to cover that occurred during California Wildfires. They showcase how people across the state go above and beyond to provide appreciated help to those who need it when weather conditions deteriorate.