South Africa is a beautiful country that attracts many tourists so it's only logical to have so many luxurious hotels and resorts. Many of these resorts offer great fun like cinemas, waterparks, concert venues and even casinos where slots, blackjack, roulette and poker lovers can enjoy some fun time while on vacation with their families.
Up until 20 years ago, gambling was illegal in South Africa including all forms such as casino games, sports betting, horse betting etc. But with the National Gambling Act from 1996 the government legalized gambling and started issuing licenses.
With that in mind, today you can play lucrative casino games all over South Africa and even on the internet at desktop and mobile casinos. Just find some of the latest casino bonuses and enjoy the entertainment. With such a widespread of smartphones and tablets there are even enthusiasts that have made betting their main source of income, because they can place a wager anytime they want from anywhere they are.
Anyway, here are the top 5 most luxurious hotels and resorts in South Africa.
GrandWest Hotel, Casino & Entertainment World
You simply cannot avoid this extraordinary resort if you are in Cape Town and if you have the pocket for it. This resort has all sorts of entertainment. There is a casino, there are restaurants and bars, and it even the host of the Ultimate Action Sports Fest sponsored by Harley Davidson. There are concerts, magic shows, a water park, spas, summer family festivals and everything. The GrandWest Casino is incredibly big with over 2,500 poker and slot machines, and many smoking and nonsmoking rooms for table and card gamers.
Monte Hotel & Casino
You can stay at the Monte Hotel & Casino when visiting Johannesburg. It's like staying in a castle with many stone works and stone paved streets. It's an amazing place with a casino spread on 278,871 sq/ft. You can have an unforgettable time here with all the interesting events like concerts, standup comedy acts and theater shows. You can relax in the restaurants and bars, or take it to the table and poker games or some of the 1,700 slots.
Suncoast Casino
This is so much more than just a casino and gaming center, it's a resort where you can take your entire family to the beach, relax there and have a fun family time with your children, swim a little, and then hit the casino late at night with your wife or sit down for a nice luxurious dinner. There is a world-class spa, many places for the children to hangout especially if it happens to be a rainy day. There is also a cinema and there are good bars and clubs if you are single. It's a place for all ages.
The Boardwalk
As with all the luxurious resorts and hotels in this article, the Boardwalk too offers quality accommodation where you can feel like a royalty. This resort has entertainment all around the year with beaches in the vicinity. Even if you are on a budget, but like to feel the luxury you can still find your place at The Boardwalk. Plus, it has the only licensed casino entertainment in Port Elizabeth. It's a very classy resort with indoor pools, spa, restaurants, lobby lounge, club bar, fitness facilities etc. Most of all, the service has been praised by virtually every visitor here.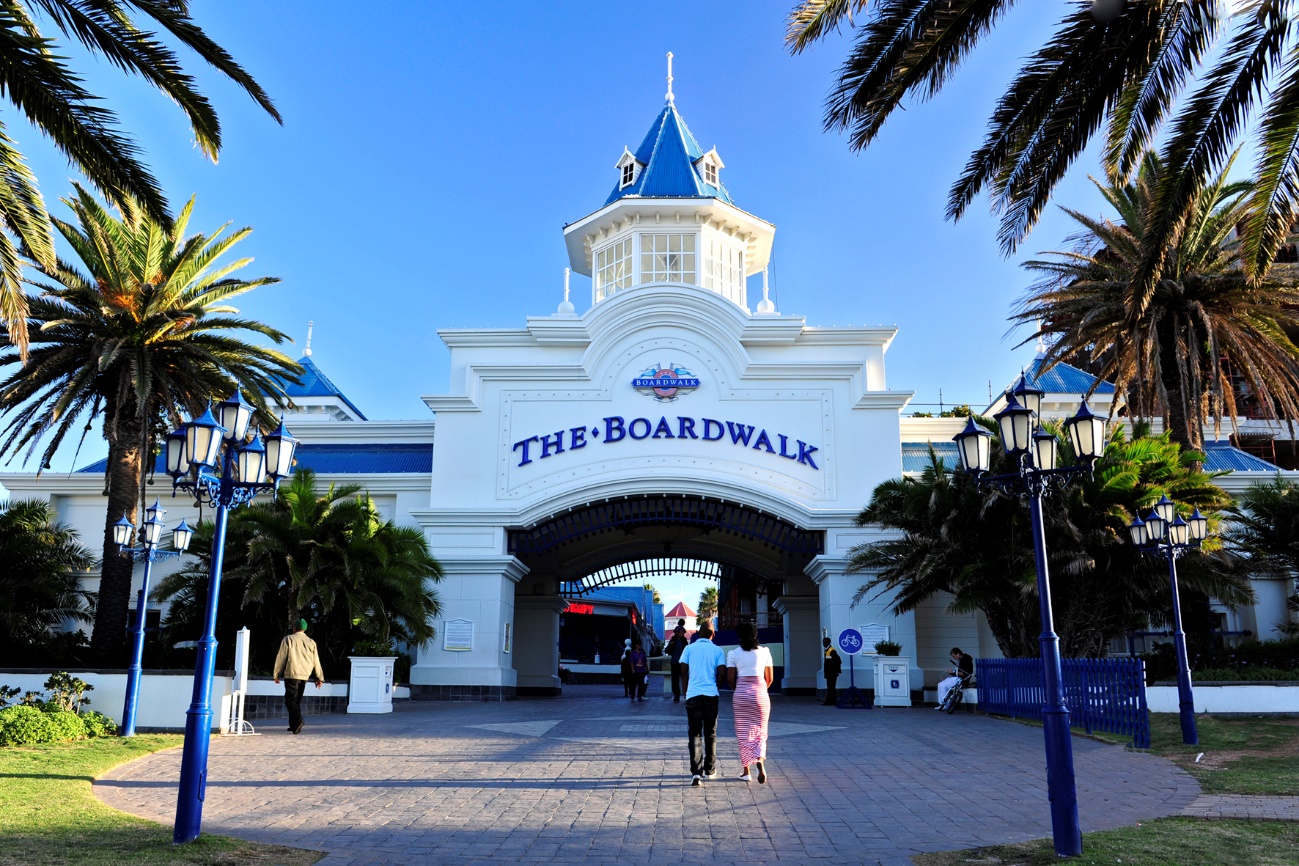 Sun City Resort
There is no better place to stay in South Africa then Sun City Resort. This is one awesome luxurious resort placed in the middle of the jungle with an inexhaustible supply of entertainment, gambling and non-gambling activities and relaxation. The waterpark is right in front of the hotel, while the night clubs are filled with young rich people looking to party till dawn. It's also a great place for your family. The rooms here are very tasteful with great views of sheer nature. The casino is one of the largest in South Africa too with 24/7 entertainment.