Having a place of refuge in your home to de-stress and clear your mind, especially after a busy and tiring day or week, is just perfect. It is definitely nice to relax under the stars in the evening or spend the weekend outdoors, and bask in the sun. If you do have a backyard, why not turn it into your safe haven? Perhaps it is time for a backyard makeover to invite peace and calming energy.
Clean up
Before any transformation, it is ideal to sort all the chaos and leave the area bare and empty to allow you to visualize the final look of the place. Plan for a theme that you want to achieve, such as a rustic look, an eclectic motif, a minimalist tone, or a burst of solid colors. Trim overgrown trees and pull out weeds. You can also host a garage sale to get rid of the things in your yard that would not fit with the idea you have in mind. Scout for the pieces that will help you achieve your backyard's overall look and feel, such as log furniture, big vases, or colorful umbrellas.
Frame a View
If you have an awesome view in your backyard, then it is best to use it. Frame it with trees or furniture and blend your landscape with the natural view. You can even use an arch covered in vines to frame your view. However, if you do not have a perfect view in your backyard, a landscaped garden can do the trick in attracting a calming mood. There are experts that can design the perfect landscape according to your preferences. The plants are carefully considered, not only to look natural in the landscape set up, but also to thrive in the environment. At the same time, you may opt to use plants that have a fragrant smell and complement it with scented candles.
A hot tub or an outdoor Jacuzzi is an even better alternative to induce relaxation because with these in your backyard, the sky is your view. Star gaze in the evening or imagine the figures painted in the clouds. Calming thoughts are surely invited with the sky as the view. It cannot be denied, however, that these come with a hefty price. Trust your gut and instinct in using upcycled materials as alternatives in place of traditional hot tubs.
Put Your Feet up
You could definitely put your feet up while seated in comfortable lounge chairs or while stretched out in hammocks. Choose a set that will go with the backyard theme you planned. For instance, a plank of wood with a white rug and plaid pillows can be a seating arrangement perfect for a rustic-looking backyard while a couple of lounge chairs in bold colors can be the centerpiece of a vibrant-looking backyard. The seating arrangements designate the functionality of the area which can be used as a dining space or a breakfast nook. The perfect seating arrangement will encourage you to spend more time in your backyard, reading a book, having a cup of coffee, or simply enjoying the fresh air, simply because your deck or patio looks more inviting. Additionally, own your space by adding your personal touch.
Use a Shade
Umbrellas, gazebos, and trees all make a perfect shade, while complementing the overall look of your backyard. It sure is not advisable to be under the sun for certain hours of the day and hanging around under a shade will still allow you to stay outdoors even while the sun is up. An umbrella can keep you dry while you sip your tea when it's drizzling, but you still prefer to remain outdoors. Moreover, from spring to fall, Gazebos provide relaxation and protection from direct sunlight. Fasten a hammock underneath the tree and enjoy your favorite book without hurting your eyes from too much brightness, thanks to the shade offered by the tree. You can also recycle materials such as fabric cloth to serve as a shade in your backyard or plant a vine and achieve a rustic look.
Freshen the Look with Water
Hearing the sound of water flowing has calming effects. In the same manner, flowing water is fresh on the eyes. There are several water features that you can incorporate into your backyard and if you do have the budget and the space, a pool is definitely a good idea. A pond housing fresh and several colorful types of fish is also not a bad idea. In any case, a fountain included in your landscape or a birdbath, are also water elements pleasing to the eyes.
Use Suitable Lighting
If you plan to hang out in your backyard during the evenings, a dreamy lighting set up is the key towards a complete relaxation. Lamps that can be dimmed or downlights are perfect in setting a calming mood. On the other hand, ambient lighting conditions placed in strategic locations will allow you to continue your event outdoors such as having dinner together under the skies, especially during the hot summer nights. Additionally, good lighting conditions are necessary on the functional places in your backyard such as tables and work areas. Walkways should also be illuminated. You can choose from several types of lighting sources available in the market that come in different shapes and sizes, according to the look you want to create.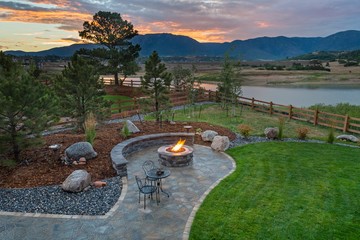 Final Word
Overall, you can transform your backyard to be your comfort zone. But this does not mean that you have to compromise your privacy in doing so. Gazebos or overhead roofs can help add a feeling of privacy and security while providing a shade at the same time. Tall plants can also serve as a wall that can create a partition to support your privacy while maintaining the overall look and feel of your backyard. Hence, you can stay outside, but still feel safe and secure. After all, your backyard is still part of your home. Perhaps it is about time to transform your backyard to be your happy place.