Female Chinese police on rollerskates patrol China's Tianfu Square, which is located in Chengdu (Sichuan province).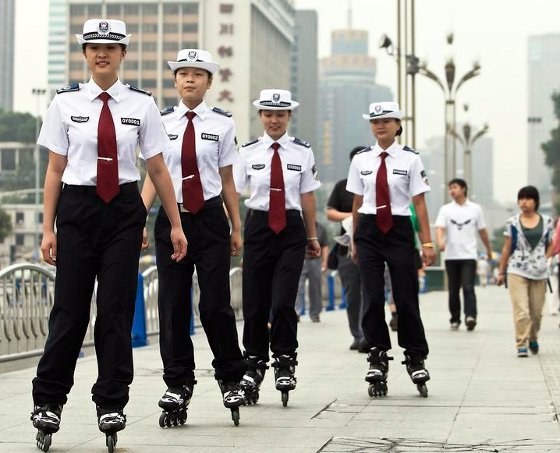 Located in southwest China, Chengdu is the capital of Sichuan province, and is an important economic/transportation hub. Tianfu Square is the downtown center. It has neat fountains and a big statue of Mao, of course. It also has a lot of pickpockets. To deal with the rising street crime, these roller-blading policewomen chase the bad guys going 25 miles per hour.
"I like watching the policewomen in the Hong Kong TV series very much… So when I saw the advertisement for roller skate police, I had to have a try. It's so cool," said 19 year old Chen Fengyu, a police recruit.
More photos of the Chinese female cops on skates below (click thumbnails for larger images):
When they are not on skates, they are wearing 3-inch high heels, because that's just the way they roll.
Source: Weird Asia