A man from Seattle named Edward Smith has sex with cars – about 1,000 of them, so he says.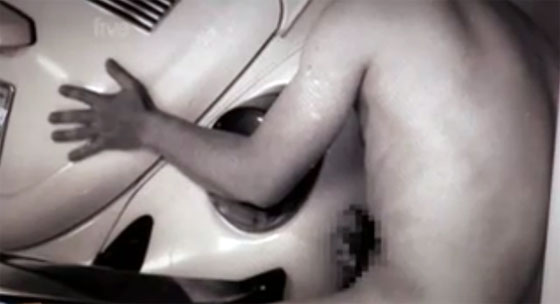 This story actually surfaced in 2008, but has recently hit the news again. We're not sure why, but we happened to noticed that there was a TV program on Five/BBC called "My Car Is My Lover." (shown below).
Edward Smith lives with his "girlfriend" named "Vanilla." Vanilla is a white Volkswagen Beetle. He really "loves" her, if you get our meaning.
"I appreciate beauty and I go a little bit beyond appreciating the beauty of a car only to the point of what I feel is an expression of love," he said. "I'm a romantic. I write poetry about cars, I sing to them and talk to them just like a girlfriend. I know what's in my heart and I have no desire to change. I'm not sick and I don't want to hurt anyone, cars are just my preference."
The 57 year old Smith said that he first was sexually involved with an automobile when he was 15. Some of his other "partners" included a '73 Opal GT ("Cinnamon"), a '93 Ford Ranger ("Ginger"), and a '69 Beetle ("Victoria").
Source: Telegraph
What Edward Smith has is something called Mechaphilia, or Mechanophilia. Mechanophilia is a sexual attraction to machines (bikes, cars, planes, helicopters). (Some countries ban the practice). But there is a global community out there of this special group of machine-lovers, of which Smith is a part. This condition is similar to objectum sexuality, something we talked about when we did the story about the woman who wanted to marry the roller coaster.
Saturday Night Live has a funny parody called The Mistress, which pokes fun at the male fascination and bonding with cars. But it's interesting that some guys really do this.
On YouTube, you can watch the video called "My Car Is My Lover" (5 parts).
We love how Edward was involved with "Airwolf
." Airwolf was such a slut!