Source: Sankaku Complex:
A lady has been attracting crowds of hundreds with her offer of intimate contact for the princely sum of 1 yuan; it seems the prospect of a quick feel and inspection is enough to draw people from far and wide… Nobody seems fazed by public communal prostitution here, even allowing the camera to immortalize the occasion for China's ever hungry forums.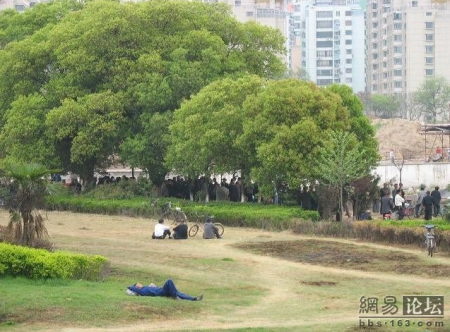 Apparently, some of this (or all) takes place at a wooden area near the Nanchang City library, Xinzhou Road.



Prostitution is illegal – technically – in China. But it's practiced openly everywhere, in five-star hotels, karaoke bars, nightclubs, and out on the streets. Some more interesting facts:
Prostitutes work at all levels of society from the grandest hotels to the poorest neighborhoods and lowliest villages
there are so many prostitutes that an oversupply has forced prices down
Prostitutes are called "xiaohie," or "miss." In Beijing there are sometimes called "chicken girls." In parts of southern China they are known as "cows"
A survey of 3,376 Chinese in 2009 found that prostitutes were considered more trustworthy than government officials.