Source: HuffPo
EstablishedMen.com is a dating site that claims to be "where the beautiful and successful meet." In an effort to get more subscribers (hey, they're competing with match.com, eharmony, and adultfriendfinder, you know!) they spiced up a recent magazine ad which features two women – one who has the shadow of a penis across her chest. The caption reads: See What You've Been Missing?
Fox News, determining that its audience are made up of a bunch of retards, has circled the penis and added an arrow that points to it.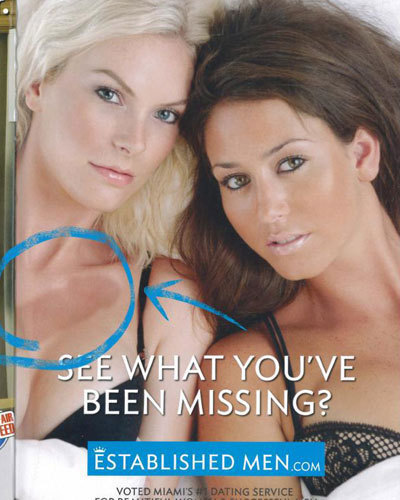 They should have blown it up bigger, and put the words SHADOW PENIS on the screen for the extra slow kids.
The advertisement was originally printed in Miami Living magazine. The issue in question has Courteney Cox on the cover. (Huh huh… Cox)
Marketing person Penny Sansevieri said to Fox News:
Did they not see this, or have magazines become so desperate for ad space that they'll 'overlook' something like this? But I find that every time something like this happens it elevates the exposure, good or bad – and issues will get snapped up very quickly.
That's your marketing expert for you. We never would have come to that conclusion…we aren't experts, after all.
A representative for establishedmen.com admitted that the "shadow penis" technique works pretty well – sign-ups to the site have increased since the Miami Living issue came out. He mentioned that they might make "shadow-penis" a "campaign staple." In other words, look for more Cox in the future.
Miami Living editor Vanessa Pascale just released a statement:
Miami Living magazine would like to apologize for not noticing the image. We hope that our audience recognises that we were just as surprised as they were to find this out. I myself have looked over the magazine dozens of times and did not detect anything hidden in the ad, which leads me to believe that establishedmen.com must have tipped someone off as a publicity stunt. We trusted them as an advertiser. Miami Living magazine intends to review future ads more carefully so that something like this does not happen again.
Sorry ladies, Vanessa has spoiled the party.