I drive to work past Cady Way Trail every day (Orlando, FL), but I didn't get up early enough to catch this anti-suicide mannequin hanging from the bridge, which caused some lane closures near 436.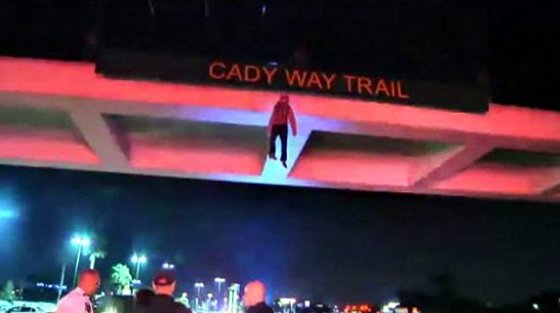 The hanging mannequin had a message scrawled on front that authorities simply said was "anti-suicide". It's too bad they chose not to tell us what the damn message said, but the story suggests that the sheriff isn't pleased so he probably doesn't want to draw any more media attention to the person who put the dummy up.
"We'll try to get reimbursement for taking up 10 firefighters' time and five deputies' time. When we have real emergencies we need to respond to, not pranks like this," said Orange County sheriff's Lt. Paul Hopkins.
If a person really wanted to jump off Cady Way onto 436, though, I doubt they'd be able to read the message clearly, except perhaps on the way down. I recommend a billboard instead.
- Bill G