Lots of guys running for office are doing ads where they are holding weapons.
Dale Peterson comes to mind.
But there are female politicians out there who also don't mind holding on to a 12-gauge shotgun or AK-47.
Here are 5 ladies in the public eye practicing their second amendment rights:
Christina Jeffrey
Christina Jeffrey was a Tea Party candidate for congress (South Carolina) who lost in the June Republican primary.
Here's her video about the Second Amendment, in which she holds an AK:
Gabrielle Giffords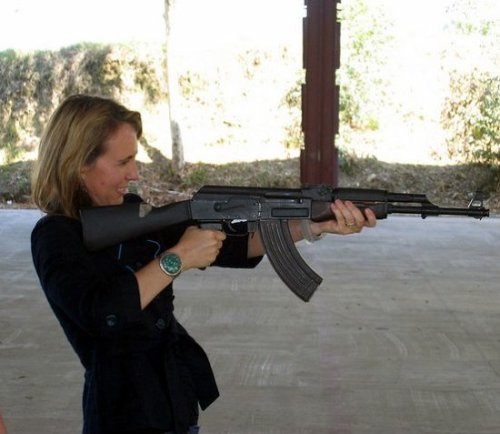 Gabrielle Giffords is an Arizona congresswoman and a Democrat. She is the youngest woman ever to be elected to the Arizona Senate. She's what they call a "Blue Dog" Democrat, which is a more conservative member of the party. It also means she's not above doing a little shootin. She still gets a low rating from the NRA, but hey – she also likes motorcycles.
The photo above is of Giffords holding an AK-47 during a visit to Afghanistan.
Lou Ann Zelenik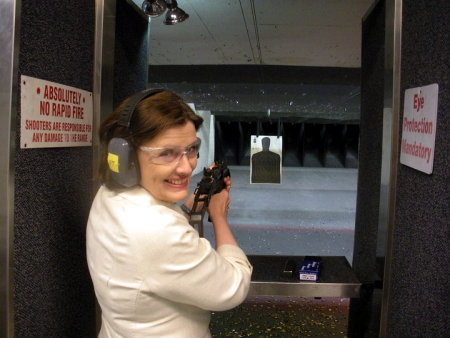 Lou Ann Zelenik is a Tennessee Republican Party candidate for the U.S. Congress. She also got the Conservative of the Year Award! Hooray, or something.
Pamela Gorman
Pamela Gorman is a conservative Republican who recently served as Arizona State Senator. She is currently running for congress.
In June, she released a video where she was shooting firearms in the desert. The liberal commentators hated it, of course, but it got real popular on YouTube. Check it out:
Here's Pamela packin' heat at a border tea party rally:
Sarah Palin
What can be said about Sarah Palin that hasn't already been said? The former Alaskan governor/self-described hockey mom is a Lifetime member of the NRA and avid hunter.
Fond of using the metaphor "reload" (read her tweets), seeing Sarah Palin with guns is not a surprise – it's expected. And unlike Gabrielle, Sarah likes American bikes.
God Bless You, Female Politicians, And Your Wonderful Weapons!