More excitement in the tradition of other Florida Hot-For-Teacher celebrities like Janet Lea Hughes, Jennifer Leigh-Manuell, and Ruen Marie Beane:
Source TBO:
A 15-year-old boy told police that a sexual relationship developed between him and math teacher Stephanie Marie Ragusa when he was 14, and she was teaching at Davidsen Middle, the Hillsborough County Sheriff's Office said. Deputies arrested Ragusa, 28, at her Lake Bella Vista Drive home in Tampa and charged her with five counts of lewd and lascivious battery.
She is accused of having sex at least five times with the teen from Oct. 1, 2006 to May 4, 2007. According to the details of the warrant:
Ragusa had a broken foot and was in a wheelchair. The 14 year old student was assigned to wheel her around Davidsen Middle. When he pushed her wheelchair onto an elevator, she told him he seemed shy. Ragusa told him she could help break him of that. That afternoon, she brought the boy to her apartment and had sex with him
One night, while the boy's parents were sleeping, the teacher picked the boy up around the corner from his house and they had sex in the back seat of her silver Lexus SUV
On the night of the 8th grade dance, the boy got a ride from Ragusa to an after-hours party, then she drove him to Carrollwood, where they had sex again
The boy described to police two tattoos in Ragusa's groin area, visible only without clothes. The tats are a flower and possibly a butterfly. There is also a tattoo of a gecko on her back.
Most recently Ragusa had been working as a 7th grade math teacher at at Martinez Middle School in Lutz.
Update On Stephanie Ragusa
April, 2008
Source: Fox News
It seems Ragusa can't learn her lesson. While out on bail, she has gotten into trouble again with the boy she is accused of being involved with. Officers discovered Ragusa and the now-16-year-old boy at his house. She had gone there to discuss the case but wound up in bed with him, police said. Ragusa was arrested (for the third time) as she was leaving and getting into her boyfriend's truck. Ragusa remains behind bars, charged with two counts of unlawful sexual activity with a minor. She can forget bail now.
Ragusa was first arrested March 13 and charged with having sex at least three times with a Davidsen Middle School student, then 14, between January and May of 2007. During that relationship, police say she began another with a second Davidsen boy, who was 15 when they started sleeping together in February of 2007. Ragusa and the second teen, who was one of her math students, had sex at least 20 times, according to the sheriff.
That's right – while Ragusa was in a sexual relationship with one student, she started up another sexual relationship with another kid.
She was initially released March 18 after posting bail, but was re-arrested April 15 when investigators say they determined she'd had sex with a second student. She has been charged with several counts of lewd and lascivious battery. Ragusa was previously arrested on charges of driving under the influence in 2005, according to police records.
Three friggin times. And a DUI. This lady's a real piece of work!
June, 2008
Info on her re-arrest and Letters to Nick Hogan. Ragusa would later state that she had no idea Nick Hogan was underage.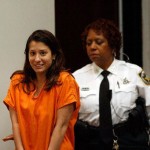 March – 2009
In an interview conducted at the Orient Road Jail house, Ragusa remained upbeat:
"I make the best of each and every day, every day is a blessing. I am pretty happy with myself. I would not want to be anyone else other than me. Then I think sometimes, are you crazy! I have a personal cook, I have running water, I take a hot shower, I have a bed, and I have health insurance"
Spending time in solitary, she complains about being kept from other prisoners. She has been told her case is high profile and this is done for her own protection. Clutching a Bible during the interview with ABC, she mentioned Jesus:
"At first, I was in shock, then I was angry, and sad you go through a whole series of emotions and then I realized I don't have to defend myself. Jesus never defended himself. If that is not a model than who is? I don't know what has been released. But, I know what I have, faith. Time will reveal the truth. The road will be rocky"
As to why she is always smiling, even in mugshots, she called it a defense mechanism and a "grace of God Composure."
August, 2009
According to jail documents, Ragusa tried to cut herself and blame it on the guards. In letters written to ABC News, Ragusa has blamed deputies for mistreating her. In one letter received, she writes:
"I think I have ruffled too many feathers here. I have to be shackled ankles and wrists to even go to the clinic. I have been put alone in confinement in complete isolation. Even my legal pads, stamped envelopes, stamps and phone card have been kept from me. I realize I am a person non grata and have been demonized. So who should listen to me? But, I have faith and I know my day will come when my voice will no longer be silent."
In another incident, according to a jail log, Deputies searched her cell and found jail-made alcohol in a Milk of Magnesia bottle and ink mixed with grease in a cup. She also apparently wrote a letter to Colonel David Parrish, former detention department commander for Hillsborough County's Sheriff, asking him for help. But Parish had already left his job by then. Nobody knows if the current commander received the letter.
April, 2010
News on Ragusa's Upcoming Trial
Source: TBO
Racy text messages between Ragusa and a student won't be allowed at her trial, a judge ruled. Hillsborough Circuit Judge Chet Tharpe granted a defense motion to suppress the text messages because they were not properly obtained from her cell phone records. Instead of getting a search warrant, which was required, officers had gotten a court order. The defense had argued that it violated Ragusa's rights to be protected from unreasonable searches.
Ragusa is in jail without bond. Her trial is scheduled for April 12th, 2010. If convicted, Ragusa faces the possibility of life in prison. Prosecutors say they have plenty of evidence against her, including love notes to one victim, hundreds of text messages, a recorded conversation from a controlled phone call, video from a cell phone of Ragusa kissing one of the victims, and DNA linking her to the crime.
Ragusa, who just recently had her 31st birthday, faces three counts of lewd and lascivious battery. Each count carries up to 15 years in prison.
Update – June 28, 2010
Source: Tampa Bay Online
Circuit Judge Chet A. Tharpe sentenced Stephanie Ragusa, now 31 years of age, to 10 years in prison for having sex with two male students, ages 14 and 16 at the time. When she gets out, she will also be assigned 15 years of sex offender probation.
Tharpe said that Ragusa's constant grinning and frivolity during hearings undermined her claims of remorse. Tharpe pointed to her "lackadaisical" attitude during previous court hearings and her continuing to have sex despite the repeated arrests.
You had a very lackadaisical attitude on your face, smiling, jovial. If I had to sum up your attitude in one word, it would be arrogance. I don't know as we stand here today that you truly appreciate the harm that you caused. I honestly believe, Ms. Ragusa, that you are a sexual predator. And I honestly believe that you are a danger to children in our community. You put your interests in front of the law, your family and your brother's needs.