Middle school teacher Janet Lea Hughes was caught having sex in a van with a 16 year old student.
Source: WFTV:
Janet Lea Hughes, 32, a teacher at Jackson Middle School, was bonded out of jail Wednesday night. Police said they caught Hughes just as she was about to have sex with a 16-year-old student in her van. Hughes is charged with unlawful and attempted sexual activity with a minor.
Her Myspace Page
(Still up as of May 2010!)
Janet Lea Hughes, 32, was arrested after two undercover Titusville police officers found her with a student in a van parked at First Presbyterian Church. The two were found lying on a blanket in the back of the van, in a position detectives said was clear they were about to engage in a sexual activity. When Hughes was taken back to the police station, detectives said she admitted to having sex with the same student in the past. Hughes was issued a $35,000 bond on one count of unlawful sexual activity with a minor. On a second count of attempted sexual activity with a minor, Judge Judy Atkin ordered Hughes to community supervision and to have no contact with the boy. School officials placed a Jackson Middle School teacher on paid administrative leave.
From WFTV:
The 32-year-old wife and mother taught business elective courses at Jackson Middle. Before her current gig, she taught at Palm Bay High School. Um, she also likes Jamiroquai.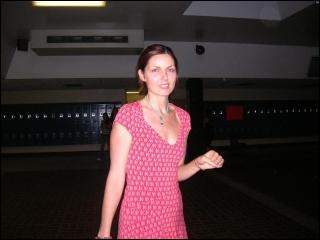 Here she blogs about how fun spring break was!
Like I said, there is no time for anything besides work and sports during the school year.
Oh we don't know, we think she has time for a few other things on the side. After all, it's very important to take time out for things like, you know, going for a walk, hanging out at the beach, having sex in a van… that sort of thing.
Here's more images from her MySpace:
Two Things:
1. Where were teachers like this when us old dudes were in school?
2. Why is a 16 year old kid still in middle school?
What we seem to have here is a 32 year old woman who is emotionally stunted. She says yuck! to Sushi and when asked if she thinks she's attractive responds do u think i would say no in typical teenager fashion. If her MySpace profile didn't have any photos of her and her family, I would think it was the profile of a 16 year old. Therefore, we would ask the court to grant this woman leniency, as she is probably not much more mature than the lucky boy she was diddling in the back of the van. Oh yeah, and she's from Long Beach.
One of the kids who goes to Jackson Middle school (8th grade) has a MySpace profile and Janet Hughes left this comment:

Crazy? For sure. Lucky? Not so much.
Pure gold, ladies and gentlemen.

First Presbyterian Church, Titusville, FL. will u be lucky tonight?
Update: May 12th, 2009
Hughes Takes Plea In Student Sex Case:
Janet Lea Hughes will be labeled a sex predator for life after pleading guilty under a plea deal that will send her to prison for one to six years. Circuit Judge Jack Griesbaum will determine the final sentence. The plea deal allows Hughes, now 34, to escape a possible sentence of 45 years in prison had she been convicted at trial on one count each of sexual battery and attempted sexual battery on a child.
Update: Janet Lea Hughes gets Five Years In Prison (July, 2009)
Janet Lea Hughes (34), now known as Janet Lea Florence because of her recent divorce, cried and was led from a courtroom in handcuffs after Circuit Judge Jack Griesbaum rendered the sentence of five years in prison. The sentencing took place at the Titusville Historic Courthouse. She will be labeled as a sexual predator for the rest of her life under the terms of the deal, which also stipulates 10 years of probation, during which she must wear a GPS-monitoring bracelet. She won't be allowed near schools or parks and will have to register her address with police four times a year.
Source: Click Orlando