Gay Marriage at the Grammys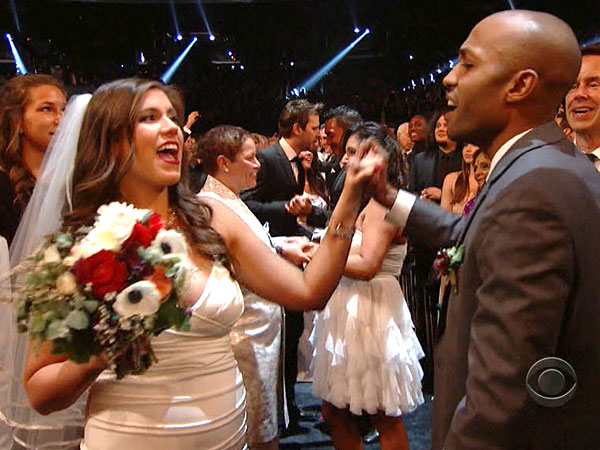 The Grammy's is the biggest music event of the year, eagerly awaited by every artist and musician wanting acclaim and acknowledgment for their work. The rest of the world just wants a night of entertainment and live music act. No one was expecting this year's shocking Grammy's surprise; a mass wedding in support of gay rights. This year the Grammy's celebrated its 56th year. Being so old, it was expected that the format would remain as it has done since its creation. Therefore, the focus of a social issue rather than the music has come as quite a surprise. For the first time people are talking about the something other than who the main award winners of the night were (who were they?). All the gossip is about this surprising wedding…
However, one of the greatest showstoppers during the Grammy Awards was the on-air wedding, when 34 couples will say "I do" during the musical acts. The mass wedding was indiscriminate; Couples of every race and sexual persuasion were married during the awards ceremony. Ryan Lewis and Macklemore performed "Same Love" with the help of industry favorite Madonna. Queen Latifah officiated thanks to a temporary license granted by the State of California especially for the event. "Same Love" was also rumored to be written purposefully for the event, however, it had already been released into the charts and is doing quite well.
From the song to the medley of couples being married, the message sent by the music and arts and entertainment industry was quite evident; they are in full support of equal rights for the gay community. It is hardly surprising as the industry is very flamboyant, and many of its greats have been homosexual, and in less forgiving times than today (think Freddy Mercury and Prince).The producers are interested in ensuring that these weddings will continue to be a tradition and that the Grammy Awards would also include various social issues, however complex, through their music.
The wedding was supposedly the brainchild of Neil Portnow, president of the National Academy of Recording Arts and Sciences. Neil Portnow is especially emotionally charged as his sister Laura will also exchange vows with Alex her fiancé, on Sunday along with the others. Neil is thrilled as his entire family was there to watch as his sister got married. The remaining 32 couples had to go through an audition process before being selected to get married during the awards ceremony.
In the list of the winners for this year is Daft Punk with Random Access Memories that wins album of the year and with Get Lucky, which wins the award Record of the year. The song of the year is Royals from Lorde, while the award for the best country album is given to Kacey Musgraves for her Same Trailer Different Park. Macklemore was the clear winner of the evening, collecting an astonishing four awards. The rap duo, whose success was started with the hit single Thrift Shop in 2013, took home more awards than any other artist except Daft Punk (who also won four awards. The duo controversially won best rap, despite initially being rejected from the category because of their mainstream success in the Top 40 charts. The Grammys kicked off the ceremony with the world's most powerful duo, Jay Z and Beyoncé. The romantic couple provided a stunning performance and it seemed romance was fully in the air. They have been voted as the sexiest couple and together with Macklemore's "Same Love" sung during the mass wedding.
Recent Comments